Welcome to Season 2! Chris and Alicia spend time communing with an 11,700-year-old creosote in the Mojave Desert, and discuss the species' importance as well as the ethics of treating millennia-old beings as disposable.
King Clone's Wikipedia page is here.
If for some reason you want to learn more about creosote gall midges, you can start here.
You can learn more about the Western Solar PEIS, and find out how to make a comment, at this site. Comment deadline is currently February 6, so don't dawdle!
If you're looking for the link to Letters From the Desert, it's here.
And here's the obligatory trail selfie!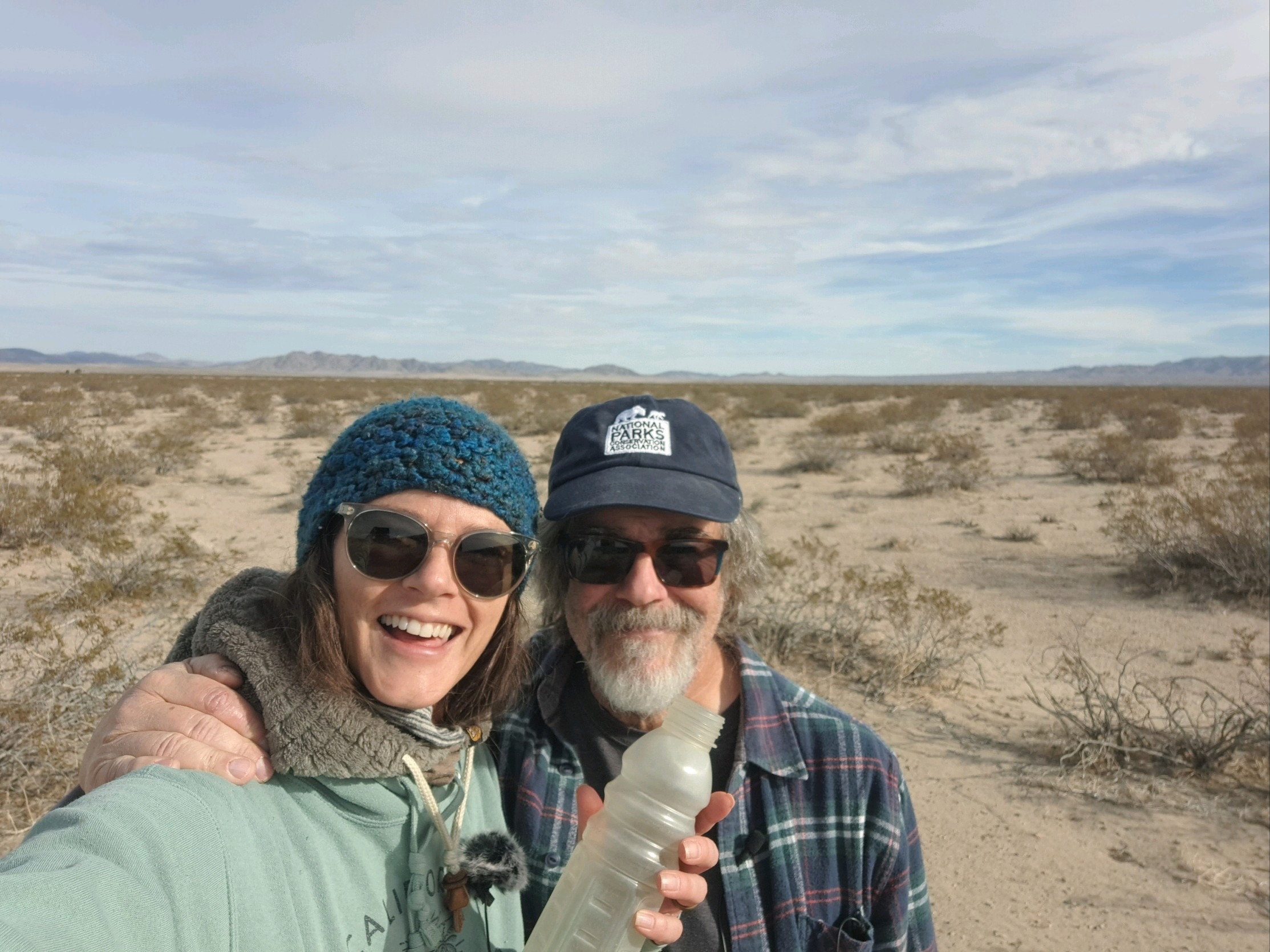 Support us!: https://90milesfromneedles.com/patreon
See omnystudio.com/listener for privacy information.
Uncorrected transcript
S2E1: Larrea Tridentata Aka The Humble Creosote
Edit Transcript
Remove Highlighting
Add Audio File
Export...
?
Transcript
[
0:00
]
00:00:00.252" data-end="00:00:10.777">

You're listening to episode one of season two of 90 miles from needles

0:06">Thank you for joining us. I think I need to do a sand angel. It is that time of year.
[
0:11
]
0:37" data-start="00:00:11.120" data-end="00:00:36.720">Music.
[0:37]
00:00:40.987">

Clark and Alicia Pike.

Thanks for tuning in.
00:00:41.217" data-end="00:00:53.537">

Alicia and I are in the middle of the Mojave Desert, as usual, in a place called Lucerne

0:47">Valley.

0:50">And my angelic co-host is making a sand angel.
00:01:01.877">

0:54">That looks pretty good.

0:56">Almost fell asleep there for a second.

0:58">We are sitting in the middle of an ancient desert plant.
00:01:09.425">

1:02">Walking by it, you might not think that it's almost 12,000 years old, but it's an exciting

1:06">topic for our first episode of the new year.
00:01:10.415">

Season.
00:01:10.777" data-end="00:01:23.657">

1:11">It feels good to lie down.

1:12">Yeah, that, my spine connecting with the soil.

1:15">It's almost nice, soft soil sand here.

1:19">Sun just came out from clouds, so it's nice and warm like a blanket.
00:01:24.171" data-end="00:01:36.549">

Because things are always more complicated than they seem, we should say that if it's

1:29">not loose sand with nothing growing on it, it is really easy to disrupt soil communities,
00:01:42.328">

1:37">of cryptobiotic soil crusts or annual plant seedlings or things like that.
00:01:47.847">

1:43">But I really wanted to do it and I didn't even think about it.

1:46">This is loose sandy soil, right?
[
1:49
]
00:01:48.765" data-end="00:01:54.166">

Yep.

1:50">No problem doing it on a dune.

1:51">I think this is just a flat dune.

1:53">There's a lot of sand here.
00:02:11.397">

At any rate, we are on a place called Johnson Valley and we are lying on the ground connecting

2:02">our spines to the desert soil in the middle of a ring of creosote that started as one

2:07">seedling a little under 12,000 years ago.
00:02:18.346">

Certainly not the oldest plant in the world, but it's pretty dang old, 11,700 years and

2:17">changed this plant.
00:02:19.097" data-end="00:02:31.057">

This ring of plants, about 40 by 60 germinated during a time when the desert was very different.

2:25">It was cooler, it was wetter, all those places where there are white or bright tan stretches
00:02:44.669">

of saline or silt were freshwater or brackish lakes. Some of them had trout. The desert

2:38">got a lot more rain. The area where we are right now probably had conifer trees growing

in it.
00:02:45.371" data-end="00:02:48.945">

Really?

2:46">Yep. Pinyons and junipers for sure. Quite likely Joshua trees.
00:02:49.854" data-end="00:02:57.668">

2:50">That makes me want to start walking around and looking at things a little differently.

2:55">Dissecting pack rat middens with a microscope.

Yeah.
[
2:59
]
3:08" data-start="00:02:59.280" data-end="00:03:07.600">Music.
[3:08]
00:03:20.003">

Imagine we found a country the size of France covered in ancient forest where trees a century

3:17">old were mere saplings just getting started.
00:03:31.445">

3:21">Where the oldest tree sprouted when near mythical monsters roamed the landscape.

3:27">Imagine visiting this country and standing in a spot somewhere and watching.
[
3:33
]
00:03:32.928" data-end="00:03:41.328">

Maybe you've left the house you're staying in on an errand or you just went out to get

3:36">some error. You walk half a block caught up in one important thought or another and you
00:03:54.928">

suddenly realize that within 60 feet of you are three trees more than a thousand years

3:48">old. You turn your head and there are two more. You start to see this open park-like
00:04:09.348">

3:55">forest with new eyes, really seeing the unimaginable ancientness of it. Everywhere you look, trees

4:04">700, 1000, 3000 years old.
00:04:18.788">

Imagine that as you really see these trees for the first time, really realize just how

4:16">mind-bogglingly long they have lived.
00:04:19.808" data-end="00:04:29.752">

4:20">You remember hearing about a hundred different plants to cut them down.

4:24">It's not that their timber is valuable or that people nearby need centuries-old firewood.
[
4:31
]
00:04:31.058" data-end="00:04:48.027">

It's just that this incredibly ancient forest has been deemed worthless and people have

4:38">decided that the land it occupies would be better used for other things and so they plan

4:43">to bulldoze it, stack the trees in debris piles to rot and build their more important,
00:04:50.269">

parking lots and garbage dumps.
00:04:51.268" data-end="00:04:58.428">

This country, this forest, they exist.

4:56">I live there.
00:05:01.708">

4:59">True, the trees rarely exceed 10 feet in height.
[
5:04
]
00:05:03.754" data-end="00:05:14.484">

They're well known to science, Mojave yucca, diamond and buckhorn cholla,

5:09">Mormon tea, but mostly, and almost everywhere you look below 5,000 feet in the desert.
[
5:16
]
00:05:16.159" data-end="00:05:30.164">

They're creosote. The oldest known creosote bush is a ring of seemingly independent shrubs.

5:23">A single creosote seed germinated, its stem grew and widened, then a side shoot emerged from the
00:05:38.084">

the ground next to the original stem. It grew and it grew side shoots and they grew side shoots.
[
5:40
]
00:05:39.700" data-end="00:05:58.324">

And then after a century or five, the oldest stems began to die, leaving a widening hole in

5:46">the clump of stems of creosote. That particular 11,700 year old creosote, which for a tiny fraction

5:54">of its life has been known as King Clone, expanded outward across the Mojave landscape,
00:06:01.924">

at an average rate of three quarters of a millimeter per year.
[
6:03
]
00:06:03.034" data-end="00:06:13.844">

It's not the only creosote that's done so. When I walk out of my house, I pass within stone

6:08">throwing distance of two or three dozen smaller rings, some of them 10 or 12 feet across at the
00:06:31.355">

6:14">soil level. Some have open soil in the centers of the clumps and others have not yet cleared the

6:19">dead stems from their hearts. And if you do the math and use as a way more conservative estimate

6:26">of expansion rate a millimeter per year to defend yourself against charges that you're,
00:06:34.452">

engaging in hyperbole when you describe how old these plants are.
[
6:37
]
00:06:36.524" data-end="00:06:49.484">

That still comes out to 300 years for every foot wide those creosote rings are.

6:43">Creosote clumps older than 500 years are as common as dirt where I live.
00:06:58.064">

Many green-leaning people are supporting the idea of converting a very large amount of

6:55">desert to renewable energy generation plants.
[
7:00
]
00:07:00.441" data-end="00:07:13.251">

Creosote is the most common woody plant in the Mojave. No one is worried that it's going to go

7:07">extinct. In most renewable energy plans, creosote is mentioned primarily to identify the kind of
00:07:20.691">

habitat it dominates. It's not a special status species. It is barely a regular status species.
[
7:22
]
00:07:21.813" data-end="00:07:37.451">

It's ubiquitous. Environmentalists peer through creosote branches hoping to see something

7:27">interesting on the other side. They would replace these ancient plants that stand every

7:32">chance of living for thousands more years with solar projects with an estimated lifespan,
00:07:38.827">

of 20 or 30 years.
00:07:39.731" data-end="00:07:51.711">

7:40">I've seen creosote rings 1,500 years old on the footprints of proposed desert solar

7:45">facilities. At the verges of dirt roads and off-road vehicle sacrifice areas, I've seen
00:08:02.584">

7:52">them covered with discarded plastic shopping bags and vacant lots. They are the only ancient

7:57">forest I've ever heard of that no one can see even though they look square at it.
00:08:03.511" data-end="00:08:07.193">

8:04">I see it now and it tears my heart.
00:08:08.231" data-end="00:08:15.862">

And when you see it, you can never unsee it.

and we'll be back after the break.
[
8:18
]
8:48" data-start="00:08:18.480" data-end="00:08:48.400">Music.
[8:48]
00:08:58.027">

King Clone is what the botanists and the desert geeks call this ring of creosote.

8:54">Just like any of us, it has good years and bad years.
00:09:05.227">

And even though things have been pretty dry out here,

9:03">it's still got a color in life.
00:09:13.687">

I know some years people have remarked that it looks completely dead, but it

9:11">persists.

9:12">This is not a wilderness area.
00:09:14.062" data-end="00:09:18.527">

It is protected and we're going to contribute to that protection by not telling you precisely where it is.
00:09:29.127">

9:19">It's not hard to find out where it is if you're really interested. If you do come out here,

9:23">please take care and be kind. But there is a major two-lane highway a mile and a half away.
[
9:31
]
00:09:31.076" data-end="00:09:41.687">

The Creesote Flats with a keen desert eye, they are very exciting.

9:35">The mountains surrounding the Ord Mountains and the Cougar Buttes to our west, Ord Mountains to the north,
00:09:52.628">

9:42">north San Bernardino south of us, they're pretty striking and we have probably a 25

9:48">mile view all around. Snow in the upper elevations of the San Bernardino mountains, which is,
00:09:53.207" data-end="00:10:00.847">

nice to see. Not nearly enough to relieve the drought, but there's some. The community

9:59">of big bear is up there somewhere.
00:10:01.072" data-end="00:10:14.296">

What's always struck me is really interesting that the more I learn about how old plants

10:06">like creosote can get, it continually strikes me that there are just really old plants everywhere

10:11">you go in the desert and you have to know to look for them.
00:10:16.587">

Yeah.

10:15">not just Korea so it thers.
[
10:18
]
00:10:17.582" data-end="00:10:24.280">

Things like ephedra and clumps of cholla and mojave yucca.

10:23">They just get incredibly old.
00:10:37.171">

Let's not overlook some of the more humble clumps like the galletta grass.

10:30">Those can be 400-year-old clumps of grass.

10:32">I've seen some impressive beds, heads, heads of beds of heads.
00:10:43.320">

Hummocks, hillocks, buttocks.

10:39">A hummock of galletta grass.

10:42">Cookie grass.
00:10:49.864">

10:44">I'm not sure why it's named after cookies, but...

10:46">Or for our three listeners in the UK, biscuit grass.

Biscuit grass.
00:10:50.072" data-end="00:10:54.112">

It seems everything will grow old in the desert

10:53">if given enough time.
00:11:07.905">

Even the soils alive, the microorganisms

10:58">that create cryptobiotic crust and lichens and mosses

11:02">and those complex communities,

11:05">they can be hundreds of years old as well.
[
11:08
]
00:11:08.392" data-end="00:11:13.009">

If not, in the case of crypto, thousands.

11:11">That lichen rabbit hole I went down,
00:11:26.032">

that's got, there's a lot of,

11:16">If it was spelunking, there's a lot of shafts to explore in regards to the amount of lichens

11:21">and the intricate communities of bacteria and organisms all working together.
00:11:27.872">

And you look at something and go, oh, that's lichen.
00:11:36.343">

11:28">But really, there's like at least half a dozen things going on there that are their own independent

11:33">organisms and they've clearly been there for a long time.
00:11:42.592">

11:37">The Park Service said hundreds, some clumps could be at hundreds of years old, but it's

11:41">a rabbit hole for another time.
00:11:55.977">

11:43">That this brings up for me which is sort of a blind spot in all of environmental protection

11:50">policy and law and things like that is that creosote is not rare, it's not endangered.
[
11:57
]
00:11:56.992" data-end="00:12:00.028">

It's not gonna go extinct anytime soon as far as we know.
00:12:04.205">

And you have these individuals not just here at King Clone, King Clone is special.
00:12:05.152" data-end="00:12:23.432">

King Clone is more than 10,000 years old and there's probably a few other clumps of creosote

12:12">that are of comparable ages or even older. I know one place in the Mojave that's thought

12:19">to have older creosote clumps, it's just that the scientists aren't publicizing it because.
[
12:25
]
00:12:24.586" data-end="00:12:36.037">

They know that we can't have nice things.

12:27">But even if a clump of creosote is only 3,000 years old,

12:31">it's rare that's taken into account if somebody wants to use the land for something else.
[12:25]
Friends.
[12:36]
00:12:36.298" data-end="00:12:43.608">

That's the spotlight we need to put on the situation,

12:40">is that it's not just one thing that needs to be protected.
00:12:44.049" data-end="00:12:52.236">

Creosote is part of the structure that keeps this desert thriving.

12:50">They literally create the infrastructure like the apartment building.
00:13:02.796">

To me, I always look at them as the apartment buildings of the desert.

12:55">Their bases always have half a dozen holes occupied by a variety of reptiles, mammals,

13:01">what have you.
00:13:07.725">

13:03">And if we take away a major part of a system, it's going to fail.
00:13:08.156" data-end="00:13:17.996">

And it may be something as innocuous as a creosote, not a single bush, obviously.

13:13">But when you take away the habitat, we're beginning to see what hell it reeks.
00:13:18.276" data-end="00:13:28.436">

We like to highlight individual little endemic species like the pupfish at Devil's Hole or

13:24">the Armagocevile or the toad out there in Dixie Valley.
00:13:43.796">

But we talked to Susan Soerels from Shoshone, California and how she worked to rehabilitate

13:36">the wildlands around her, which in turn allowed the natural system to thrive.
00:13:54.807">

13:44">And a once thought extinct pupfish showed up again.

13:47">It's a great example of how if you tend and steward the land with care, it can rehabilitate

and reestablish itself.
00:13:55.156" data-end="00:14:01.387">

It's imperative that you maintain the whole system and not just focus on one aspect of

the system.
[
14:02
]
00:14:02.324" data-end="00:14:13.757">

And that's where I feel like environmentalism and conservation and capitalism really butt

14:09">heads is that finding middle ground on protecting whole systems seems impossible.
00:14:14.675" data-end="00:14:21.580">

14:15">We just want to do the right thing and save this keystone species or something and close

14:20">the book and feel like we did the right thing.
00:14:22.216" data-end="00:14:33.949">

But if that keystone species doesn't have sustainable habitat to thrive in, the whole

14:27">thing is going to collapse.

14:29">And this is something that environmental activists do know about, but they're just not legal

tools a lot of the time.
00:14:34.136" data-end="00:14:43.104">

We have the legal tools that we have, and they are really focused on rare species or

14:40">on other sort of unique characteristics.
00:14:49.775">

14:44">There's nothing in law that really takes ecosystem integrity as a primary goal.

And there's...
[
14:51
]
00:14:50.801" data-end="00:15:03.863">

Almost nothing in law that could compel you to say,

14:54">why are you talking about killing something that's been alive for 2,500 years

14:59">so that you can put up a strip mall that will be obsolete in 35 years?
00:15:04.034" data-end="00:15:14.091">

Our shortsightedness on the use of old growth earth is appalling at the least.

15:10">One thing that really irritates me is hearing politicians say,
00:15:22.246">

we have to put solar in the desert in order to meet the climate goals,

15:19">the green climate change goals for the state of California.
00:15:23.038" data-end="00:15:37.271">

It's okay, like it's good that we have goals, but to raise and put pressure on our system

15:30">to meet those goals without really thinking about the cost of raising down old growth
00:15:46.971">

desert that holds carbon that isn't part of an intact ecological system, just to put up

15:43">a solar field that's only going to help meet that demand for what, 25 years?
00:15:53.826">

15:47">And it just seems so short-sighted and wasteful and stupid.

15:50">And it seems that if you dig and ask why, it's cheaper.
00:15:54.015" data-end="00:16:02.651">

And to me, that just hurts so much that profits are being prioritized over

16:00">the health of our planet, which includes us.
[
16:04
]
00:16:03.863" data-end="00:16:12.251">

I feel like that's often overlooked.

16:06">It's like we're not just some hippie dippies that care about Mother Earth.

16:10">We want Gaia.

16:11">We need to save the planet.
00:16:13.208" data-end="00:16:17.214">

No, we need to be respectful stewards of the planet

16:15">and not be so goddamn greedy.
[
16:27
]
00:16:26.567" data-end="00:16:42.157">

If you knew someone who treated his family and friends the way people treat the desert,

16:39">you'd likely give that guy a wide berth.
00:16:54.699">

Extracting resources from someone for your own benefit and refusing to change your ways

16:47">even as you watch them languish and decline, on a personal level, that is generally considered

16:53">the mark of a toxic person.
00:16:55.477" data-end="00:17:10.543">

Of course, on the political or corporate management levels, it's standard operating procedure.

17:00">And as a result, the makers of the 2003 film, The Corporation, based that film on the proposal

17:05">that we regard corporations the way we regard individuals who acted the same way.
00:17:11.037" data-end="00:17:14.054">

The way they put it was, corporations are sociopaths.
00:17:22.561">

17:15">That term has been deprecated of late in favor of phrases like antisocial personality disorder,

but the basics remain.
00:17:23.597" data-end="00:17:29.673">

17:24">Both show a pattern of behavior that fails to take the welfare of others into account,

17:27">or even deliberately disregards that welfare.
00:17:30.497" data-end="00:17:36.262">

Both lack either empathy for those affected by their actions or any remorse for those

effects.
00:17:37.037" data-end="00:17:43.419">

Both display poor impulse control and a failure to properly assess the risks of the impulsive

behavior.
[
17:45
]
00:17:44.537" data-end="00:17:53.497">

Think about these traits for a minute, and I think you'll agree that's a pretty apt description

17:49">of the way a lot of us treat the desert as well.
00:18:01.631">

17:54">Treating people the way we treat the desert is considered a profound personality disorder.

18:00">And rightly so.
00:18:02.558" data-end="00:18:08.657">

18:03">I mean who'd want to be on the receiving end of the kind of treatment?

18:06">The desert gets dished out to it.
00:18:17.871">

18:09">Even just suggesting that the non-human world might be due a bit of concern and compassion

18:14">can get you dismissed as an extremist, even ridiculed.
[
18:19
]
00:18:18.957" data-end="00:18:22.377">

Why do you care so much about the desert?

18:21">What about the interests of people?
00:18:23.398" data-end="00:18:36.768">

The inability to take part in a discussion without shifting everyone's focus to oneself

18:28">is of course diagnostic of not only being the 45th president of the United States,

18:34">but also of narcissistic personality disorder.
[
18:38
]
00:18:37.865" data-end="00:18:48.368">

So what would we call an apparent inability to allow a discussion to happen without making

18:43">it focus on our own species? This is a bigger issue than just individuals feelings about
00:18:58.248">

helping wildlife. The conservation movement is now being challenged by people calling

18:53">themselves new environmentalists and I'm not going to name names first off because it's
00:19:09.229">

easy enough to find out. And secondly, because that would undermine my own point and prove

19:04">theirs. But they proclaim that conservation's goal should be to take care of people first.
[
19:10
]
00:19:10.288" data-end="00:19:21.168">

They gleefully oppose preserving any species that doesn't fit into a world run entirely

19:15">for benefit of humans or at least they don't emphasize it. They think of it as less important.
00:19:31.208">

And like some of the climate activists that have accused me of being an extremist over

19:26">the past decade and a half, they object to any discussion of the real world effects of
00:19:43.834">

gigantic renewable energy projects. In other words, there is a campaign to rewrite the

19:35">goals of conservation away from protecting wildlife and their habitat and in favor of

19:40">terraforming the planet for humans maximum long-term comfort.
00:19:44.608" data-end="00:19:55.068">

19:45">And I should point out that I am not talking about people who remind us to take into account

19:49">the welfare of those humans whose interests have traditionally been excluded from the

19:53">table.
00:20:02.972">

Frontline communities, people of color, face the same essential problems as do threatened

20:01">species and threatened habitats.
00:20:03.228" data-end="00:20:05.700">

They are increasingly on the same side.
00:20:06.627" data-end="00:20:12.688">

20:07">Now, I'm talking about defining non-human species out of existence as a matter of principle.
[
20:14
]
00:20:13.712" data-end="00:20:26.396">

To relegate them to a second class inhabitant of the planet.

20:19">It's hard to escape the conclusion that there is something massively wrong with the way

20:24">most human beings think in these days.
00:20:27.099" data-end="00:20:38.270">

Being unable to empathize with the 99.9% of species in the world that are not human.

20:33">A feeling of justification in any actions that benefit humans no matter the cost of those other species.
00:20:43.519">

20:39">A lack of remorse for the deleterious consequences of human actions on other species.
00:20:44.419" data-end="00:20:54.642">

It's tempting to pathologize this kind of behavior to call it something like anthropocentric personality disorder.

20:51">And to be honest, I have done so in the past, but I don't think it's helpful.
00:21:06.295">

20:55">I think it, again, pathologizes the actions of people that are not incurable, that can be changed,

21:02">that can be changed through measures as simple as education about the importance of other species.
00:21:07.015" data-end="00:21:20.362">

But if you think you might have something like anthropocentric personality disorder, if you're disturbed by your own

21:14">lack of interest in other species,

21:17">fortunately, there are ways to change our thinking.
[
21:21
]
00:21:21.463" data-end="00:21:34.562">

There are ways to learn the importance of other species, to learn appreciation for them based on their own nature, their own right to exist

21:28">the way they exist, regardless of any service or detriment or

21:33">relationship that they have with human beings.
00:21:35.264" data-end="00:21:40.002">

Step one, go outside.
[
21:52
]
00:21:51.936" data-end="00:22:04.422">

So we'll get back to Creosote in a minute, but first a little bit of news

21:55">and some updates here. First reaching into the old 90 miles from Needles mailbag,

22:01">Jeremy writes, hello, just thanking you for episode 20.
00:22:09.670">

22:05">I'm a native New Yorker, but I live in LA

22:07">and I really love your reporting

22:08">on the Western Joshua Tree issue.
00:22:10.222" data-end="00:22:16.620">

I don't have much money, but I'm happy to sign a petition

22:13">or do something like that.

22:14">How can I help?

22:15">Thanks a lot for what you do.
00:22:17.622" data-end="00:22:26.046">

22:18">Jeremy, thanks for writing.

22:19">We love getting letters.

22:21">And oddly enough, the campaign to protect

22:24">the Western Joshua Tree right at the moment,
00:22:27.062" data-end="00:22:38.316">

And by right at the moment, I mean mid January, 2023

22:31">is in a place where there isn't a huge amount

22:35">that the average desert lover can do.
00:22:39.102" data-end="00:22:49.740">

Unless you happen to be a tribal member

22:42">or closely related to a tribe,

22:43">in which case you can encourage the tribal members

22:46">in your orbit to reach out

22:48">to the California Fish and Game Commission,
00:22:50.262" data-end="00:22:55.294">

and express your or their opinion

22:53">about protecting the Western Joshua Tree

22:54">because they are.
[
22:56
]
00:22:56.365" data-end="00:23:17.160">

At least in theory, still collecting comments and opinions and sentiments from local tribes in California and the adjacent deserts.

23:08">But they have closed the public hearing for the rest of us. And while I suppose sending emails would remind them that people care about it,
00:23:19.215">

it's hard really to promise that it's actually going to do something.
00:23:38.535">

Something. However, if you go to biologicaldiversity.org and sign up for their email alerts, they can

23:27">let you know when there's something happening. It's been Center for Biological Diversity

23:31">that has been leading the charge on this listing. And their conservation director, Brendan Cummings,
00:23:49.655">

23:39">a frequent guest and actually Patreon supporter of this podcast, is doing a good job of keeping

23:45">everybody updated when there's something we can do. In general, just talking to your friends about,
00:24:02.455">

23:50">it, promoting the Center for Biological Diversity if you're so inclined, certainly sharing those

23:57">episodes of this podcast or in general just sharing this podcast even with people you don't know.
00:24:03.180" data-end="00:24:13.335">

How can you do that? Post links to episodes on social media. You have lurkers. You don't know

24:10">who they are, but they might actually have something to say about it.
[
24:14
]
00:24:14.475" data-end="00:24:24.056">

You can also leave a review of our podcast if you think we did a good job on reporting

24:21">on the Western Joshua Tree issue, which we hope to continue to do.
[
24:25
]
00:24:25.255" data-end="00:24:34.436">

It really does tweak the algorithms, the more good reviews we get, especially if you have

24:30">a moment to write out some kind words or even some thoughtful and critical words.
00:24:35.426">

We like it all.
00:24:35.835" data-end="00:24:47.003">

24:36">But even just giving us some of those stars in your favorite podcast review mechanism

24:41">will help get us in front of more people.

24:43">So thanks, Jeremy.

24:44">Keep listening, keep writing.

24:45">We really appreciate you reaching out.
[
24:48
]
00:24:48.155" data-end="00:25:05.125">

Oh, and yes, I almost forgot you can also sign up for our newsletter at 90milesfromneedles.com

24:57">newsletter and we will alert you when we've done new episodes on whatever topic, anything that
00:25:18.025">

has to do with the desert and protection thereof we are happy to cover. So sign up there 90miles

25:12">from needles.com slash newsletter just sign up for the nine emails from needles
00:25:37.380">

sub stack email newsletter and we will let you know whenever anything important

25:23">happens podcast related or desert protection related it's just a really

25:27">easy low-impact way of getting supplemental news from us even if you

25:32">already subscribe to the podcast while we're speaking in newsletters I have a,
00:25:41.458">

25:38">a separate one that is an outlet for my own writing.
00:25:50.514">

25:42">We're trying to coordinate that with production of the podcast to some extent.

25:46">We certainly plugged the podcast in that newsletter,

25:49">but it's called Letters from the Desert.
00:25:51.081" data-end="00:25:53.359">

We will put a link to it in our show notes here.
00:25:54.196" data-end="00:26:05.233">

Or you can just go to lettersfromthedesert.substack.com and subscribe there.

26:00">There is a paid subscription version,

26:02">but you can get the whole thing for free as well.
[
26:06
]
00:26:06.223" data-end="00:26:18.345">

And of course there's always our patreon

26:09">90 miles from needles dot-com slash patreon if you come into a supply of money Jeremy and

26:16">Want to share some with us? That's a good place to do it.
[
26:19
]
00:26:19.357" data-end="00:26:26.185">

Or any of the rest of you we have close to a hundred patreon supporters at this point

26:25">And we wouldn't be able to do this without them,
00:26:27.153" data-end="00:26:35.939">

Now we took a month off in December and a lot of desert news happened in that intervening time

26:32">but we have one in particular that we think is,
00:26:36.948" data-end="00:26:40.078">

26:37">really outstrips all the rest just in terms of being.
[
26:43
]
00:26:42.565" data-end="00:27:01.011">

What's the word I'm looking for potentially catastrophic no, that's two words

26:47">This is big. This is big folks and it could wind up being something that's regrettable

26:53">But kind of in the long run beneficial or it could just be out and out horrible and a lot of that depends on you

27:00">Yes you,
00:27:02.046" data-end="00:27:05.566">

getting in touch with the powers that be and making your views known and.
[
27:08
]
00:27:07.778" data-end="00:27:20.510">

Generating enough support for the organizations that can then

27:12">probably

27:14">Regrettably have to sue the US government to make them do things, right? But anyway enough preamble in.
[
27:23
]
00:27:22.661" data-end="00:27:37.858">

2012 the Bureau of Land Management and the Department of Energy issued

27:28">essentially a coordinating document for public land solar in the southwest called the final

27:33">programmatic environmental impact statement for solar energy development in six southwestern.
[
27:39
]
00:27:38.964" data-end="00:27:52.658">

States. The solar PEIS as it's called. Those states are Arizona, California, Colorado, Nevada,

27:45">New Mexico and Utah. Pretty much our entire turf. Almost. That document set up solar energy
00:28:01.974">

27:53">zones which would get essentially solar companies would be encouraged to cite their potential

projects there.
[
28:03
]
00:28:03.098" data-end="00:28:22.338">

It also set up exclusion areas where solar was not going to be allowed or permitted and

28:09">it set up variance areas where you could still propose a solar project but you wouldn't get

28:15">quite the streamlining of federal procedure that you would if you proposed it in a solar

28:21">energy zone.
00:28:32.098">

That's what the world has gotten used to in the Southwest for solar development.

28:27">Individual projects, even in the solar energy zones, are still problematic at times.
00:28:44.818">

And so those have been and can be fought.

28:37">But it's a little bit of a zoning plan in which the government has identified some places
00:28:53.998">

28:45">where it wants to have the solar and some places where it wants to have wilderness and

28:50">wildlife habitat and national parks and things like that.
00:28:54.858" data-end="00:29:03.856">

28:55">And a third category where we'll decide later.

29:00">So while we had our backs turned during December,
00:29:04.858" data-end="00:29:21.149">

29:05">the Department of the Interior announced

29:07">that it was redoing the solar PEIS

29:12">and that the department would be reconsidering

29:15">a bunch of things about the 2012 solar plan

29:17">and adding the states of Montana, Idaho, Wyoming,
00:29:23.130">

29:22">Washington, and Oregon.
00:29:24.098" data-end="00:29:27.038">

In the states that had already been covered

29:26">by the Solar PEIS.
[
29:28
]
00:29:28.144" data-end="00:29:38.865">

The government would examine whether or not they excluded too much land from consideration for solar development,

29:34">including, importantly, parcels with a greater than 5% slope.
00:29:39.802" data-end="00:29:50.244">

29:40">In order to be considered for a solar energy zone, in the 2012 PEIS, you had to have less than a 5% slope.

29:47">So basically, valley floors, which had their own problems.
00:29:53.584">

That's where all the fine particulate matter settles.
00:29:54.530" data-end="00:30:09.293">

29:55">So disturbing that is not always a good idea.

29:58">But at any rate, this PEIS could very much enlarge the amount of land dedicated to solar

30:04">development in the states that were covered in the 2012 PEIS, which essentially covers

30:08">the entire desert.
00:30:10.284" data-end="00:30:23.427">

Not going to lie, kind of wondering why they left West Texas out.

30:14">But at any rate, most of the desert could be completely redrawn for solar development

with this process.
[
30:25
]
00:30:24.594" data-end="00:30:36.054">

Of us in California are especially concerned that this plan includes possibly looking at

30:31">revising the Desert Renewable Energy Conservation Plan, which is a monster of a plan. It's like
00:30:49.174">

14,000 pages and nobody likes it. But it did establish many, many acres of conservation

30:45">It gave away many, many thousands of acres to the energy developers.
[
30:50
]
00:30:50.389" data-end="00:31:00.639">

It established precedent and it has just barely started working.

30:56">The first couple of projects that have gone through the process under the DRECP as it's called.
[
31:02
]
00:31:01.785" data-end="00:31:16.559">

Have been seriously problematic. The Oberon solar project for instance, which was the first out of

31:09">the gate, that company asked for exemptions to the DRECP already. So it's like they can't even
00:31:22.399">

31:17">wait to see how it works before asking for changes. And those changes for Oberon would have involved.
[
31:23
]
00:31:23.439" data-end="00:31:33.759">

Serious damage to desert dry wash woodland like the iron woods that we

31:28">talked about in the last episode of season one. So we in California are all very concerned that
00:31:45.374">

31:34">the Interior Department could completely redo the DRE CP and if you are in California look at our

31:41">show notes. Actually you don't have to be in California you can still have an opinion on this,
00:31:56.479">

31:46">on the DRECP aspect of it. Look at our show notes for ways that you can register your

31:51">sentiment about keeping the DRECP in place, at least not amending it through this process,
00:32:10.689">

which is going to be way too broad-grained to do any good, and to make sure that your opinions

32:04">about the process in other states, essentially the entire West, are taken into account.
00:32:25.439">

32:11">One thing it would really help to mention is the fact that these processes never consider

32:19">having an alternative that would emphasize solar in the built environment. That's often called
00:32:34.079">

rooftop solar, but it's a lot more than rooftops. This is solar over parking lots, keeping your

32:30">cars shaded so you don't have to crank the AC when you get back in in the summer.
00:32:37.079">

32:35">It's like double savings on climate stuff.
[
32:38
]
00:32:38.326" data-end="00:32:52.256">

There are landfills and worn-out farmland and canals and toxic waste dumps and stadiums and

32:45">logistics centers and all kinds of different places that have little to no habitat value,
00:32:53.243" data-end="00:33:05.456">

where the damage to the quality of life of people and other living things around the

33:00">project would be minimal and the Department of the Interior never considers these places.
[
33:07
]
00:33:06.620" data-end="00:33:17.836">

They need to at least consider them. We need to start talking about why we're

33:12">putting renewable energy projects on public land when a solar panel doesn't
00:33:25.256">

33:18">care where it is as long as it's getting some sunshine. Look at our show notes for

33:21">how you can make your make your feelings known about the redoing of the solar
00:33:34.196">

PEIS. This is really important folks. This is going to shape the way we look at

33:29">the landscape in the West for the next 10, 20, 30, 40, 50 years. It's going to
00:33:45.916">

to change the way your grandchildren and their grandchildren look at the West? Are we going

33:40">to have intact old-growth desert or are we going to have just row after row after row
00:33:58.116">

33:46">of solar ghost towns that are no longer generating power but are generating a whole lot of dust

33:53">and tumbleweeds and just generally bad vibes?
00:34:10.036">

So check out the show notes. We hope you say something. Right now we're in the scoping

34:03">period, which is the very first period under the environmental assessment approach of the

34:08">National Environmental Policy Act.
00:34:15.397">

So they're looking for comments, just look at this, consider this, don't do that, that

kind of thing.
00:34:15.676" data-end="00:34:22.626">

34:16">You don't have to be an attorney or a geophysicist or anything like that to make these comments.

34:20">You just have to tell them what you don't want and what you do want.
[
34:24
]
00:34:23.596" data-end="00:34:37.039">

Look at our show notes.

34:25">Now back to the creosote.

34:26">to the quill zone.
[34:37]
34:45" data-start="00:34:37.040" data-end="00:34:45.040">Music.
[34:45]
00:34:58.140">

The creosote is one of my favorite bushes to talk about when we go on hikes because

34:53">it's everywhere and it doesn't seem like much, but when I start to talk about just,
00:35:04.443">

the reciprocity and symbiosis that creosote has with its environment, it really blows

35:03">people's minds.
00:35:06.314">

It blows my mind the more I learn about the plant.
00:35:19.203">

It has this rap for being toxic.

35:09">It doesn't let other plants grow near it, but in fact it has multiple examples of symbiotic

35:15">relationships. A good example is if you look at the branches of cariesot, there's a fungal
00:35:31.443">

organism that's alive and living there on the plant. And when it rains, the water filters

35:25">through all of those little fungal spores getting fertilized and it goes straight down

35:29">and it gives the cariesot bush nutrients.
00:35:43.737">

35:32">I did not know that.

35:33">That's a new thing that I learned recently that just blew my mind. It's complete reciprocity.

35:39">You can live here and because you live here, I get nutrient benefit, you get nutrient benefit.
00:35:44.466" data-end="00:36:03.001">

The gauze, the midge gauze that show up are another example where you've got the midge

35:49">fly who stores spores on her back legs and when she's ready, she just plants a spore

35:55">on the creosote which grows there and lets her larvae grow safely with food and shelter.
00:36:06.656">

In fact, I was told recently, and I'm going to look this up here.
[
36:07
]
36:29" data-start="00:36:07.440" data-end="00:36:29.200">Music.
[36:29]
00:36:41.348">

Creosote gallmages are actually 15 different species of flies which inhabit creosote bush

36:38">and they specialize.
00:36:52.982">

Some of the species will create galls on the leaves, others will do the stems, some will

36:46">do the flower buds, some will do the open flowers and each of the 15 species makes its

own shape of gall.
00:36:53.148" data-end="00:37:06.708">

But if you look at the insects under a microscope, unless you have a really good microscope and

37:00">really specialize in these particular kind of flies, they're almost impossible to tell

apart.
00:37:07.241" data-end="00:37:21.848">

Yeah.

37:08">They just look like microscopic mosquitoes to me.

37:11">Lifecycle begins when the female oviposites, in other words, lays an egg into the part

37:16">of the plant which her species prefers, inserting the egg along with a fungal spore from a mycangia,
00:37:26.088">

37:22">which is a small pocket that she has to store fungal spores, which I want on my cangium,
00:37:27.088">

now.
00:37:31.413">

Yeah.

37:28">Gall forms and the fungus grows, mycelium lining the inside of the gall.
[
37:32
]
00:37:32.308" data-end="00:37:49.111">

When the egg hatches, the developing larva feeds upon the fungus.

37:36">The hemiparasitic plant Cremaria bicolor or white ratene will live on the root system

37:44">of the creosote and they often live in symbiosis side by side for hundreds of years.
00:38:01.237">

37:50">I get along with so many different organisms in the desert.

37:54">Creosote flowers are five lobe yellow flowers,

37:58">and each flower produces five seeds.
00:38:08.898">

38:02">I just like things like that.

38:04">Every seed pouch I've ever pulled off

38:07">always has five little fuzzy seeds.
00:38:09.393" data-end="00:38:14.668">

Yep.

38:10">That kind of symmetry is really lovely.

38:11">It's not uncommon, but it's just delightful.
00:38:15.632" data-end="00:38:22.185">

38:16">Another cool thing about the flower, which I only learned recently, is that you can tell whether a flower has been pollinated.

Oh, yeah?
00:38:22.600" data-end="00:38:29.642">

38:23">If it is yet to be pollinated,

38:25">the

38:26">petals will all line up in the same plane. But if.
[
38:31
]
00:38:30.836" data-end="00:38:40.955">

An insect has been by to pollinate the flower and potentially lay eggs or whatever in the developing fruit, it depends on what insect

38:38">the flower will twist so that

38:41">the,
00:38:41.477" data-end="00:38:46.420">

petals form more of a propeller shape. They'll be inclined relative to each other, all,
00:38:47.162" data-end="00:39:01.882">

circling the main axis of the flower. So it's really easy to tell whether you have a good insect population

38:53">pollinating the creosote. You just go to a bush that's in full flower and see how many of the flowers are still flat and therefore

38:59">un-pollinated. I learned about the desert willow.
[
39:03
]
00:39:02.894" data-end="00:39:10.422">

This week that if

39:05">the flower is open and it's been disturbed but not pollinated,
00:39:11.149" data-end="00:39:20.162">

it'll close and reopen. But if it's disturbed and pollinated, it'll close and

39:16">stay closed. It knows to open back up again. For me, it's like the intelligence
00:39:31.341">

of plants. The intelligence of everything on this planet in the universe is so

39:26">vastly underestimated by the human ego. Yeah, and we haven't even started talking

about.
00:39:32.295" data-end="00:39:41.162">

The stuff that goes on near creosotes. We're sitting here at King Clone, and King Clone is,

39:38">if you didn't know what you were looking at, you wouldn't think it was anything,
00:39:48.589">

particularly special other than just a beautiful visually monotonous, more or less visually uniform,
00:39:53.985">

39:49">bunch of creosote on the larger scale and one kind of clearing in the middle of it.
00:40:07.278">

39:54">That's the most outstanding feature is that it has the biggest clearing. The space between bushes is

40:01">is very hilly and undisturbed, but the center of this bush is very clearly different from.
[
40:08
]
00:40:08.065" data-end="00:40:11.765">

The other open earth, and that's because it's the center of an ancient plant.
00:40:12.058" data-end="00:40:24.175">

But if you look at where the bushes are growing, the individual emerging stems, some of them

40:18">many decades old, almost all of them are growing out of a little bit of a rise in the soil,
00:40:30.522">

40:25">sometimes very pronounced rise, a foot or more tall with a steep slope on the edges.
[
40:31
]
00:40:31.125" data-end="00:40:40.145">

Some of them are a little bit more subtle.

40:33">And to some extent, that's just because the roots are holding the sandy soil here in place

40:38">and it's not blowing away as readily.
00:40:55.045">

But it's also because of the community of organisms that live there and they can range

40:48">from single cell bacteria and archaea, things like that, mycelial fungi.
00:40:56.754">

Fun guys?

Fungi.
00:40:57.205" data-end="00:41:05.270">

Mycelial fungi.

41:00">And as you look around a typical creosote flat, you'll see that some of these hummocks,
00:41:24.725">

have a bunch of holes at the base of the creosote going into the soil and everything from desert

41:11">tortoises to burrowing owls to antelope ground squirrels to various species of lizards and

41:18">snakes and things like that will all live beneath a creosote. And that may have been

41:22">what you meant when you talked about it being an apartment house.
00:41:31.045">

41:25">Precisely what I was referring to. They have, it's the word complex.
00:41:30.324" data-end="00:41:36.986">

Comes to mind, not only in a biological sense, but-

41:33">Also psychological.

41:34">Like where I grew up, it was an apartment complex.

Right.
00:41:37.246" data-end="00:41:43.134">

And so these are very much like complexes to me.

41:41">And it's funny because a family will move out.
00:41:57.357">

Like maybe there was an iguana there last year,

41:45">but the iguana is not there this year.

41:47">So there's a wood rat, or there's a whiptail,

41:51">or a zebra tail, or there's so many critters that

41:55">live at the base of creosote bush.
[
41:58
]
00:41:58.141" data-end="00:42:04.532">

It's like a little city.

42:02">And so it's all underground and like you said,

42:03">some of them get higher.
00:42:05.153" data-end="00:42:11.446">

There's taller apartment buildings than others out here.

42:08">And King Clone certainly has some hearty hummocks.
00:42:17.414">

42:12">That book you have, what is it?

42:13">Field Guide to Desert Holes.

42:15">Field Guide to Desert Holes would be very handy out here.
00:42:21.862">

42:18">Everything, and like ground nesting bees,

42:20">I didn't know had ground nesting bees.
00:42:22.456" data-end="00:42:35.158">

I learned that upon moving to the desert.

42:25">The amount of holes that go into

42:27">the desert floor that are occupied by spiders and bees and everything is just really so

42:34">fascinating.
00:42:37.374">

Learned about tarantulas this year that.
[
42:38
]
00:42:38.444" data-end="00:42:50.948">

When the males are out looking for love, the females are waiting in their burrows,

42:44">and the male will follow the scent to her and he'll find her hole, and she weaves like a doormat,
00:42:51.128" data-end="00:42:57.673">

a web doormat. And when he hits the entrance to the hole, he'll take one of his four legs and he'll,
00:42:58.015" data-end="00:43:00.774">

tickle the doormat to let her know that he's there.
00:43:15.614">

43:01">There are so many places to say that's what she said.

43:04">But you look at all the variation in an individual hummock of creosote, and then you look at

43:11">how many hummocks of creosote there are here, and then you look at how big this expanse,
00:43:16.092" data-end="00:43:25.913">

is, you think each one of these little shrubs is a reservoir of biological diversity that

43:23">you have to look for to find.
00:43:26.054" data-end="00:43:28.784">

The golmages, there are 15 species of golmage flies.
00:43:29.154" data-end="00:43:45.952">

Just for starters.

43:30">starters and this immense stretch of plants that probably none of them are

43:38">11,700 years old except for this one but there are certainly some even just

43:43">nearby even just along the road to get here there were some clumps that were,
00:43:46.789" data-end="00:44:05.622">

43:47">well into the four figures. Oh yeah on satellite you can see that there are

43:52">circles half this size all around. Yep and easily. If these creosotes were 200

43:58">feet tall, this would be a national park and people would be like chaining themselves to

44:02">the trees to keep people from cutting them down.
[
44:07
]
00:44:06.514" data-end="00:44:20.323">

Green activist David Brower, who I knew a little bit, once told me towards the end of

44:10">his eight plus decades on the planet that he had spent a lot of time focusing on trees

44:16">and if he had it to do over again, he would have spent more time thinking about things

44:19">like bunch grasses.
00:44:22.429">

44:21">And I really appreciated that.
00:44:23.005" data-end="00:44:30.729">

I thought that was really perceptive.

44:25">We had to start somewhere.

44:26">Yep, trees are important, not dissing trees.

44:28">Yeah, but old growth desert is important too.
[
44:32
]
00:44:32.071" data-end="00:44:43.837">

And that seems to be a much harder case to plead.

44:36">People get upset when they see fires burning in the Amazon

44:40">because people want to exploit the Amazon for profit.
00:44:44.107" data-end="00:44:53.685">

And that's world headline news,

44:47">but old growth desert getting raised

44:50">to put in another solar field doesn't get mentioned at all.
00:44:54.240" data-end="00:44:58.720">

To me, it's the exact same thing.

44:57">Before we moved to 29 Palms,
00:45:12.032">

44:59">I lived in Joshua Tree in a cute little house

45:01">that was way too small for both Laura and myself with a 60 pound pit bull, especially

45:08">considering that we spent the entire pandemic so far working from home, both of us.
[
45:13
]
00:45:13.175" data-end="00:45:23.051">

But in this small house, which was a lovely place when I was there by myself, it was exactly

45:18">the right size once I got rid of all of my stuff, I had my friend Tim Shields come over.
00:45:37.440">

Tim Shields is the same Tim Shields who was interviewed in one of the later episodes of

45:31">Season one, he's a tortoise biologist and we had a really good conversation about

45:36">work he's doing to protect tortoises.
00:45:48.020">

45:38">And I showed him a smaller creosote clump in my backyard that was, I figured

45:44">it was 400 years old maybe, is a respectable size.
00:45:58.160">

If you saw a rhododendron in a suburban neighborhood that was that size or an

45:52">azalea, you'd think, oh, that's a nice azalea, that must've cost 300 bucks or

45:56">maybe four feet across the whole thing.
00:46:06.937">

And Tim copped a pretend attitude and he said,

46:01">creosotes are an invasive exotic species.

46:03">They've only been here for 13,000 years

46:05">and have just taken over the entire desert.
00:46:07.400" data-end="00:46:16.227">

And it was a good lesson in shifting perspectives

46:12">on the time scale, getting out of the human scale,

46:14">because he wasn't wrong.
Yeah.
00:46:17.360" data-end="00:46:23.618">

There was probably no creosote in the Mojave 20,000 years ago.

46:22">And it came up.
00:46:34.538">

46:24">They're still unsure how seeds from South America got to central Mexico, but somehow

they did.
00:46:35.555" data-end="00:46:38.481">

46:36">It's an nearly identical species with the South American creosote.
[
46:40
]
00:46:39.640" data-end="00:46:45.232">

And from what I've seen, the scientists all pretty much assume that it came from there

46:44">to here, not the other way around.
00:47:03.309">

We've talked a lot about the creosote today, but we haven't pointed out that the ways that

46:52">they spread themselves through clones. Obviously, we said we're in King Clone, but we haven't

46:57">really said creosotes clone themselves outwards, but they also reproduce through seed. So they,
00:47:04.340" data-end="00:47:16.839">

have a pretty easy way of spreading because everybody wants to eat their seeds, the rodents,

47:10">the lizards, the birds. So they all get picked and dispersed. Windstorms blown. You were,
00:47:17.100" data-end="00:47:23.740">

talking about the hummocks, the base of the creosotes building up in those wind storms

47:22">really help build up those darn...
[
47:25
]
00:47:24.626" data-end="00:47:37.196">

Berms. Again, that whole system of symbiosis, really, the creosote is known for just being

47:32">so exploitative of its environment. It'll take over the water, it'll take over the flats.
[
47:38
]
00:47:48.316">

It spreads by cloning itself, by spreading seed, and you end up with these giant swaths

47:44">of creosote flats. Do you want to walk around and look at holes in plants and stuff?
00:47:58.636">

Yeah, let's do that. Here's an iguana hole or something similar with a bunch of debris piled

47:54">up in it. Yeah, looks like that hasn't been used in a while. I tried to ignore a mylar balloon in
00:48:12.068">

47:59">my neighborhood yesterday while we were walking the dogs and Tad wouldn't leave it alone. He was

48:04">like, mylar! I had to go and clean it up. Oh, here we've got some white poops. Looks like coyote maybe.
00:48:22.556">

Yep. Real old. Got a couple of teeth and stuff in there. Here's a populated hummock. Seems real

48:20">It's so quiet out here.

48:21">A lot of these holes don't look very active.
00:48:27.030">

48:23">Yeah, it's been cold.

48:24">I think everybody that lives out here is probably hunkering.
[48:27]
00:48:27.356" data-end="00:48:40.407">

Here's a recently used hole.

48:30">Still no recent tracks going in and out, but at least it's not all clogged up with debris.

48:34">We talked about how many things live out here and now I can't find a single active hole,

48:39">but like you said, it's cold.
00:48:50.836">

48:41">Plus, this is an island, a protected island in the middle of a whole bunch of desert that

48:46">is heavily impacted by off-road vehicle use.
00:49:02.840">

Essentially surrounded by the Johnson Valley off-road area.

48:53">I love this incipient desert pavement forming here where the wind rockstones back and forth

48:59">and brings them to the surface and all the sand grains settle beneath them.
00:49:06.730">

49:03">What happened here? Do you see this? It looks like maybe a butt was here.
00:49:07.320">

Bunny butt.
[
49:08
]
00:49:08.152" data-end="00:49:21.800">

And then it's got this activity to the side. I wonder, I think bunny is right, maybe a jackrabbit

49:16">doing a little grooming. Oh here's a nice cluster. Yeah isn't that great? So this has got to be.
[
49:23
]
00:49:23.160" data-end="00:49:40.040">

Well up into the top end of the four digits. Let's see, let's pace it. Two, four, six, eight, ten,

49:32">twelve, fourteen, sixteen, eighteen. So roughly 20 feet long. Okay so that's 240 inches. Let's.
[
49:41
]
00:49:41.199" data-end="00:49:43.432">

Let's see on the other side, the width.
00:49:44.440" data-end="00:49:58.214">

So two, four, six, eight.

49:49">Between eight and 10 feet wide, 20 feet long, safely to say thousands.

49:53">Oh, okay.

49:54">Each foot is two or 300 years, so it could be 6,000.
00:50:10.160">

49:59">And of course, the ubiquitous water bottle abandoned in the desert.

50:05">clump of trees way out there looks like it's probably a really nice established spread.
[
50:11
]
00:50:11.105" data-end="00:50:16.720">

Yeah, old homestead out there.

50:13">Seems like we're coming up on a boundary line.

Yeah, probably.
00:50:16.857" data-end="00:50:19.108">

50:17">It's a pretty small area set aside, huh?
00:50:26.240">

Yep, and somebody still went across it in the last 20 years with a dirt bike.

50:24">right here.
00:50:25.914" data-end="00:50:31.864">

Shall we do a wide loop?

50:28">Yeah.

This is a happy hump here.

50:30">It's got a bunch of little holes in it.
00:50:32.053" data-end="00:50:36.257">

Whoa. Yeah, it's all hollow up here.

50:35">My bad guys.
00:50:41.190">

Just caved in somebody's house.

50:38">Just trying to clean up some trash.

50:40">Somebody post-holed here too.
00:50:47.078">

50:42">That looks like there's some current tail drag marks.

50:46">Maybe somebody came out.
00:50:55.072">

Maybe. Yeah, this is great.

50:49">The more you start to look around,

50:51">the more this looks like it very well is one quunk.
00:50:58.619">

At first I thought it was just these guys.

50:57">There's this one over here too.
00:50:59.285" data-end="00:51:06.316">

Oh yeah, look at that.

51:01">Wow. That one's like a platform.

51:04">Yeah. This is definitely Princess Clone.
00:51:12.402">

I love this little walkway going up to the,

51:10">this is like a outdoor stage.
00:51:15.975">

Little tortoise palette and old burrow.
00:51:16.164" data-end="00:51:20.008">

Look at that. Is this where we do our obligatory trail selfie?
00:51:23.044">

Yeah. That could still be an active burrow.

Yeah.
[
51:24
]
00:51:23.816" data-end="00:51:31.495">

It looks cleanish in there.

51:26">It doesn't look like there's more than a year's worth of stuff there.

51:29">Oh, here's another nice elevated.
00:51:33.917">

51:32">And that's definitely got some folks living in it.
00:51:34.313" data-end="00:51:40.110">

I just want to hug. I don't know how to hug shrubs.

51:38">Shrub hugger.

51:39">Right, I'm a shrub hugger.
00:51:55.844">

Have you hugged your crease out today?

51:42">Just making contact with the earth in general can be difficult to do if you live in the city,

51:49">or if you have a busy life, because even I can go for time without ever making physical contact
00:52:02.644">

51:56">with the earth. Look at this. Looks like a crust. Yeah, it does. I think it's some caliche.
00:52:09.125">

52:03">I love this pattern looks like of the brain, but just making contact with

52:06">with the earth with your bare feet or with your hands.
[
52:10
]
00:52:10.187" data-end="00:52:26.757">

Making it a point to practice connecting to nature sounds so dumb and new agey but

52:17">really keeps you, I don't know, look at this. This one's got what looks like it's super smooth on

52:23">one side and then yeah that's not crumbling at all. What is going on there?
[
52:27
]
00:52:27.417" data-end="00:52:40.197">

That is calcification it looks like whether that was happening below ground adjacent to a caliche

52:33">layer and just got weathered to the top or some other process is above my paygrade to determine.
00:52:52.837">

But yeah, that's basically tufa. So a bunch of lava scattered around in here sparsely. That's

52:47">really fascinating. I'm wondering where that's from. Yeah. Yeah. It's weird how in some areas,
00:53:00.428">

52:53">you'll just find these micro fragments and larger, not large rocks, but baseball sized rocks of,
00:53:14.229">

53:01">basaltic. Some areas I know it was common to like go collect it and then use it to decorate your

53:07">yard. So we'll find old homestead cabin concrete pads and nearby there'll be a high density of,
00:53:26.997">

this kind of rock. And to me, I'll be like, okay, I know why it's here. But when you're out in a

53:20">wide open plain like this, there's clearly no homestead cabin ruins around where we're walking
00:53:39.557">

53:27">right now. My mom always told me growing up that the earth is always like churning up rocks because

53:35">you know she'd work her garden beds and her flower beds that was one of the things that she always
00:53:49.473">

53:40">did. She had a great rose garden for years. She'd always find rocks like I know I cleaned out this

53:46">whole bed and I amended the soil and I know what's in here but now when I'm coming back there's all,
00:53:55.370">

53:50">these new rocks and so that's always created a visual image in my mind that the earth while it.
[
53:56
]
00:53:58.052">

It looks static, it's not.
[
54:00
]
00:54:00.123" data-end="00:54:23.915">

Well, that's it for the first episode of season two of 90 Miles from Needles, the

54:18">Desert Protection Podcast. On behalf of my co-host Alicia Pike and myself, I'd.
[54:00]
54:08" data-start="00:54:00.400" data-end="00:54:08.080">Music.
[
54:24
]
00:54:24.197" data-end="00:54:26.094">

Like to thank you for tuning in.
00:54:40.786">

54:27">You can learn more about our podcast at our website, 90MilesFromNeedles.com,

54:32">where you can click on the support us button and join the ranks of the

54:38">desert defenders who are sending us a little bit of cash each month through,
00:54:41.477" data-end="00:54:49.677">

Patreon or Ko-fi in order to make sure that we can continue bringing you news

54:47">on what's happening in the desert.
00:54:55.637">

54:50">The crises that are threatening it, the people that are rallying to save it,

54:54">and the reasons why it's worth saving.
[
54:57
]
00:54:56.891" data-end="00:55:07.667">

Special thanks to Martin Mancha, our neighbor and an amazing artist and designer who is responsible for our,

55:04">hopefully not autobiographical, podcast artwork.
[
55:09
]
00:55:08.738" data-end="00:55:23.322">

Also, and this is very important, we'd like to acknowledge that we totally stole the

55:14">hold music while I look something up joke from the podcast Ologies and its fantastic host,

55:20">Allie Ward. You should definitely check her out.
00:55:28.588">

55:24">We like to thank our financial supporters when they join us for each podcast.
00:55:29.101" data-end="00:55:38.981">

And it's a little bit of a list this time around because we took the month of December off, honestly.

55:33">And so we did have a little bit of a campaign, a year end campaign to get some new supporters.
00:55:58.097">

55:39">And they are Lisa and Becca, Sarah Lundstrom, Luke Basulto, Eileen Lynch, Brian O'Connell,

55:49">Richie G., Matthew Lounsbury, Ben L., Morgan Meeker, Susan Soerels, the Desert Protection Society,
00:56:05.722">

Peter Spurr, Jackie Guevara, Patrick Zukowicki, and Michael Landrum. Thank you so much for helping,
00:56:06.261" data-end="00:56:15.274">

us put this thing together. And remember, there's a lot more to the desert than meets the eye,

56:11">Even if your eye is on it for decades at a time, there's always something new to learn.
[56:15]
57:51" data-start="00:56:15.280" data-end="00:57:51.046">Music.