Chris and Alicia discuss the recent victory in delaying exploration for lithium near Ash Meadows National Wildlife Refuge. They also announce the formation of the Desert Advocacy Media Network, the podcast's new nonprofit organization home. The hosts then delve into their love for the desert plant, the Globe Mallow. They share personal stories and observations about the plant's adaptability and its role in the desert ecosystem.
Become a desert defender!: https://90milesfromneedles.com/donate
See omnystudio.com/listener for privacy information.
Uncorrected Transcript
**0:00:00** - (Alicia): 90 Miles From Needles is brought to you by generous support from people just like you.
**0:00:06** - (Chris): You can join their ranks by going to Nine 0 Mile from Needles.com. Slash.
**0:00:11** - (Alicia): Donate you. It's time for 90 miles from Needles, the Desert Protection Podcast, with your hosts, Chris Clarke and Alicia Pike. Welcome to another episode of 90 Miles From Needles, the Desert Protection Podcast, with your hosts, Alicia Pike and Chris Clark.
**0:00:53** - (Chris): And we have a really cool episode, we think, in store for you here, talking about one of our favorite desert denizens. But before that, our last episode involved a really horrible idea of mining for lithium next to one of the biological diversity centers of North America that just happens to be in the Mojave Desert. Ash Meadows National Wildlife Refuge. We have some good news for y'all.
**0:01:20** - (Chris): Thanks.
**0:01:20** - (Chris): In large part to public pressure, the BLM has done a u-turn, and as of the 19 July, BLM has said, wait, you cannot go ahead and bore those boreholes near Ash Meadows without going through an environmental assessment process under the National Environmental Policy Act. This is going to delay this project for at least a year. At the very least, we have more time to register our opposition and keep this from happening.
**0:01:51** - (Chris): In the meantime, just because we didn't know for sure whether or not the drilling rigs were going to show up on the 17th. Your two favorite podcast hosts made it out to Ash Meadows on the 17th, and I think it's fair to say we came back even more resolved than we had been to keep this from ever happening. It was your first time seeing the place and my first time seeing that part of Ash Meadows, and it was just an astonishing place. Even at 122 degrees Fahrenheit for me.
**0:02:23** - (Alicia): The heat was in my mind more than it was radiating from the atmosphere. When we got to Fairbank Spring after visiting Site One for the first test borehole, I was just appalled and shocked that anyone thought it was a good idea. Whether it was legal or not. I just couldn't believe that that proximity, not just next to a wildlife refuge, but having any understanding of the hydrology out there, says it's a really bad idea.
**0:02:59** - (Alicia): And I'm really grateful that the BLM stepped up and said, oop, that may be totally fair game for you, but it's actually really a bad idea. I'm glad we're entering this process and that the internal blood pressure and temperature has gone down for Alicia, because it was shocking just the location and the proximity to the spring. If you understand the hydrology, which I got a really great picture of visiting there, when you just see how close it is to that spring where the armor gosa, pupfish is swimming around in its tiny little world.
**0:03:35** - (Alicia): It's one of those things that you remember. Every voice counts when you speak up for something like that. You can't always tell on paper the severity of a situation. And this was one of those cases where this isn't a broad swath of old growth desert that we can bicker back and forth about. This is ancient water, imperiled species, endangered endemic. Let's bust out all the big words because this is a very special place. And the fact that it was stood up for so valiantly and quickly and opposition was lodged to let anyone know who was thinking about that lithium mine, that this was not going to be easy made me feel swell with pride for humans fighting to do the right thing.
**0:04:20** - (Chris): I will repeat something that I said in the newsletter that I sent out recently, the letters from the Desert newsletter that I put out sporadically, which is that you can tell who the badass desert rats are if they see a place for the first time and it's 122 degrees, and then they fall in love with it in any way. Also note that we are indebted to Susan Sorrells of Shoshoni and Cameron Mayer of the Friends of the Amargosa Basin for dinner the evening of the 16th. And it was really great to hang out in Shoshoni and look at the pupfish there before heading over to Ash Meadows. It was just, all in all, a really good trip. So more of those to come and we'll take you with us on some of them. We did get some recording done at Ash Meadows that I think we're going to be using in the Amargosa podcast that we're working on, so that should be exciting. But we have other good news as well.
**0:05:15** - (Alicia): Our good news is we've funneled our energy into a nonprofit where we can continue to help protect and conserve the desert with greater means and operation ability. Get yourselves ready for another damn charity, the Desert Advocacy Media Network, ladies and gentlemen. You're damn right.
**0:05:39** - (Chris): I think we have our social media campaign already written. We are just really excited about what we're going to be able to do. Just it makes a little easier for people to justify giving, especially towards the end of the year, if it's tax deductible. Everything you've given to us this year is now officially deductible on your taxes next April. This opens the door to a lot of potential fundraising. We have some ideas that we are going to implement later in the year.
**0:06:05** - (Chris): It's just really gratifying. It happened a lot quicker than we thought it was going to, and we're stoked. I think good things are coming to the Desert Advocacy Media Network and its podcast 90 Miles from Needles. Thanks for your support getting us there, and let's do some great work together. Let's get on with talking about one of our favorite desert plants.
**0:06:32** - (Chris): One early March morning a lifetime ago, as the rising sun purpled the desert sky, I peered over the walls of my pickup truck's bed and blinked sleepily at the Mojave landscape near Boron, California. The west Mojave bore a color I hadn't seen there before a bright, sparse orange scattered across the desert, almost as if someone had planted a few hundred thousand California poppies out among the paperbag bush in creosote.
**0:07:03** - (Chris): I rubbed my eyes to make sure the bright sparks weren't artifacts of the previous day's long drive. But they were still there when I looked again. It really had been a long drive. While doing my usual landscaping gig in the Bay Area, beset by problems I no longer recall. This is 35 years ago as I speak now. I decided that I needed to go to Oregon pipe Cactus National Monument in Arizona as soon as I possibly could.
**0:07:33** - (Chris): I called the woman I was seeing at the time, who would, some years later become my ex wife, and told her I was taking off for a week or two, loaded a few things in my ancient pickup truck. A Volkswagen Transporter, like the old school van, except a pickup truck with the top speed somewhere in the mid 40s. Left Berkeley in midmorning. I was only pulling uphill past South Bakersfield's orange groves around 08:00 p.m..
**0:08:00** - (Chris): At some unfathomably late hour, I turned into the rest area on Route 58 near Boron, rolled out a sleeping bag in the back of the truck and fell asleep hard. And I woke up to that desert orange. The landscape wasn't exactly carpeted in bloom. It wasn't a quote banner year at the Poppy Reserve, end quote, orange blanket on the land. It was more an orange that had been deftly intermixed into the desert's usual palette.
**0:08:28** - (Chris): It complemented and augmented that palette. I crawled out of my truck bed, earning a few puzzled looks from other impromptu rest area campers who'd had the decorum to sleep inside their rigs. I limped over to a representative orange flowering plant and examined it. It was about 2ft tall, predominantly gray green with fuzzy hairs covering the leaves and stems. The orange petals seemed improbably delicate for the desert.
**0:08:56** - (Chris): That sparseness of blossom's orange that I'd seen in the broader landscape extended fractally to the plant itself, each flower clasped in enveloping gray green bracks that concealed the bright petals for some of their lengths, each cluster of bracks separated by weedy looking stems and drab velvety leaves. It was a shy flower. It made me think of the roadside chickeries back east. Their beautiful sky blue petals opened for an hour or two in the morning and then shut tight against the world.
**0:09:28** - (Chris): My new friend was a desert globe mallow, Sphaeralcia ambigua, and I was never out of sight of the plants as I drove painstakingly slowly along my route that very long day.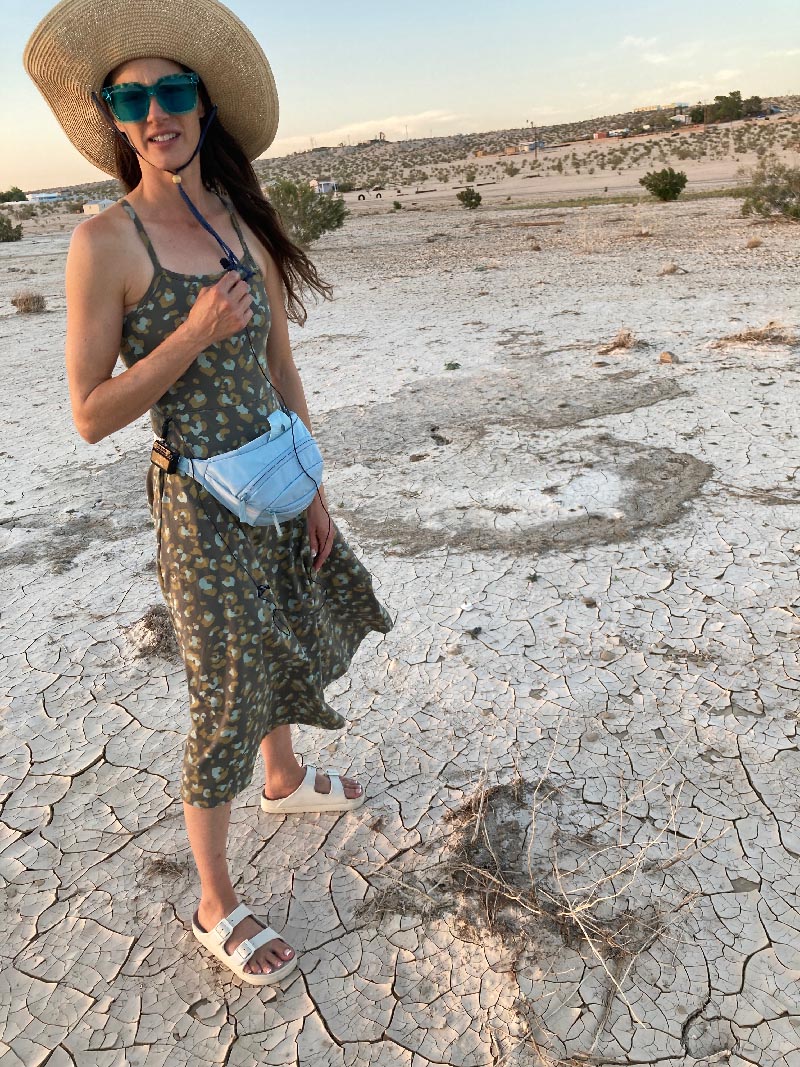 **0:10:11** - (Alicia): Okay, Chris, here we are on the ancient lake bed of Lake Los Olivos, and I have some interesting apricot globe mallow stories here. Here in our yard is my caged mallow.
**0:10:32** - (Chris): Oh, that's doing pretty great.
**0:10:34** - (Alicia): And this was actually a volunteer from the barrel cactus I got from Jan Emming at Desert Sense Nursery. Back from one of our very first episodes we recorded.
**0:10:46** - (Chris): Lovely.
**0:10:47** - (Alicia): And this little volunteer did really well in a pot, and I declared it was going to be caged. And it is still getting grazed on through the cage. But the heart of the plant is alive and well, and I believe that this guy is going to make it.
**0:11:06** - (Chris): Yeah. Got to love that quarter inch hardware cloth.
**0:11:10** - (Alicia): The tiniest I could get, you will find that particularly young desert, iguanas can climb right up this and into it, and it becomes their own little cage where they live inside there and just eat it until it's gone. But they don't really seem to bother my natives. They really want my non native vegetable garden stuff, like the lettuce. They really loved my lettuce. So the interesting thing about where we are is that this is ancient lake that not a whole lot grows here.
**0:11:41** - (Alicia): And I've been through a lot of hit and miss with plants. And mallow is one of my favorite plants here around where I live because I call them bee motels or bee hotels.
**0:11:54** - (Chris): I've been seeing the little pollinating native things going in and out of the flowers here.
**0:12:00** - (Alicia): Yeah. And in the evening, in the evenings, they'll just go to sleep and the flower closes around them and in the morning, they wake up and take off. And I love watching sleeping bees. It's a little early for them to be retiring for the evening, but we're pretty close.
**0:12:18** - (Chris): So this is growing around a barrel cactus. Were they in the same pot at the nursery? Okay.
**0:12:26** - (Alicia): It looked like a little weed sprout. It had just sprouted when I brought it home.
**0:12:29** - (Chris): So this plant was growing up next to the barrel cactus and said, you need a nurse plant.
**0:12:35** - (Alicia): Yeah.
**0:12:36** - (Chris): Well, that's nice of it.
**0:12:37** - (Alicia): Yeah. And so I would say five years ago, we had one of our major floods from a monsoon, and this whole valley floor was underwater. And when it was flowing, it was really intense. It was flowing in areas that I'd never seen it expand and flow across. And I remember saying to Tad, absolutely 100%, we are going to see things grow here that we've never seen before, because think about how far this water is coming from and it's bringing all that stuff with it. And sure enough, after that flood, we saw detour show up and it had never grown here before.
**0:13:18** - (Alicia): We saw Indian tobacco show up. Oddly. The Russian thistle disappeared, which we are most grateful for. But the star of the volunteers were about five different mallows and they were living out here completely unprotected, no cage. And it became a daily thing to walk out and check on them and see how they were doing. And so we are now making our way to the carcass of the biggest one that grew out here.
**0:13:53** - (Alicia): We were talking about how there's prime zones for mallows to grow in.
**0:13:58** - (Chris): Right.
**0:13:59** - (Alicia): An alkaline lake bed ain't it.
**0:14:02** - (Chris): Isn't it? For many different wait, I think different organisms, except that we have this really pretty fillery kind of stuff.
**0:14:13** - (Alicia): Oh, there is so much fillery here. It has been here. It was one of the first things I noticed.
**0:14:21** - (Chris): Going to have to take a picture of the decorative fillery in mud cracks.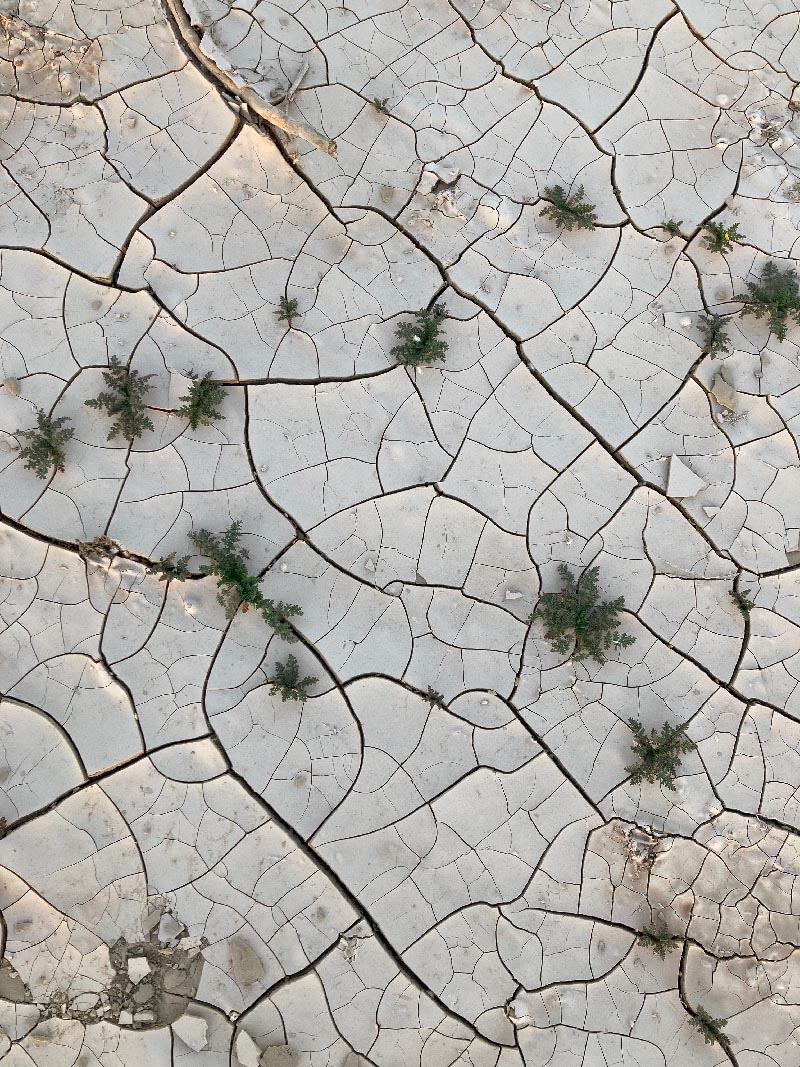 **0:14:29** - (Alicia): And the cool thing about this fillery is that when the seed is ripe and properly dried out, the husk of the seed acts like a spring launch and it shoots it off several feet away from the plant. And I happened to be sunbathing on the ground right next to some, and I heard it happen first, and I had to sit and watch the plants next to me unfurl and do another. And it was just the most cool experience.
**0:14:59** - (Alicia): So, yeah, these are the bases. This was a mallow at one point, and this guy had gotten about, I would say, three and a half feet. About that big. Not anymore. He did not make it. The drought out here was what really got him. They were fine as long as they had enough water. And as soon as the summers came, you felt like it was just getting sucked back down into the earth. And it receded to, like, a little bit of a grassy mat where there were leaves coming out of the base. It's like it was trying to regenerate.
**0:15:35** - (Alicia): And I came out here with a cage and I started watering it. I got 150 foot hose and I was coming all the way from over there out here to try and keep it alive. And as soon as I started watering it, it died completely, which was an extreme letdown because I thought I was helping it so creosote can act as a nurse plant. I found mallow growing underneath the creosote, and I was pretty surprised at that because creosote has a pretty bad name for being toxic. Let's cut through this way.
**0:16:07** - (Chris): Yeah, I think the old story was that it's toxic, and now the new story is that it just is too good at sucking up all the water. I think it's probably a little bit of each.
**0:16:16** - (Alicia): Yeah.
**0:16:17** - (Chris): There is some stuff that really is extremely happy to grow under creasote.
**0:16:21** - (Alicia): You see the high water line on this little oh, yeah.
**0:16:26** - (Chris): We would be standing in a foot of water.
**0:16:29** - (Alicia): Yeah, that's about just under my knee is what this lake bed will settle at, which is kayakable, my favorite pastime. So this guy is five years old.
**0:16:46** - (Chris): Oh, look at you.
**0:16:46** - (Alicia): And he's just hiding here under this creosote. And he does get browsed upon, but it's almost like the animals know and respect. This is an anomaly here, and it's the last of all of them to make it. And I visit this plant often and tell it how much I love it and how beautiful it is and how grateful we are. It's here. We have our own little bee motel. There's a few flower buds on it right now. That one over there that we stopped at first, it's dead.
**0:17:21** - (Alicia): It's just so big. And all of the flower cups would be full of bees. It was just so intense. Such a collection of every bee was different in each little flower cup.
**0:17:33** - (Chris): That's so cool.
**0:17:34** - (Alicia): Yeah, this is funny. The wrinkles in the mud from when the dogs were taking stuff, getting close to my plant.
**0:18:18** - (Chris): If you went looking for a single.
**0:18:20** - (Chris): Plant to symbolize the deserts, the Globe mellow wouldn't be a bad one to pick. It grows throughout the Mojave and Great Basin, through Nevada and Arizona, into Utah, Sonora, and elsewhere in Mexico. It's called the Globe Mallow for two reasons. It's in the mallow family malvesi along with cotton and hibiscus, and its flower petals tend to curve toward one another at the edges, creating the general impression of a balloon or half a balloon.
**0:18:52** - (Chris): Desert globe mellows don't all bloom bright. California poppy orange. Some of them have blossoms that are a more nuanced color that gives rise to another common name, the apricot mellow. Some of variety rosacea bloom somewhere on that non primary spectrum of color that runs between lavender and pink. All of them share the little hairs on their stems and leaves that give the plants their grayish hue.
**0:19:20** - (Chris): That's a trait common to a lot of desert plants. The coating of minute hairs holds a layer of water vapor near the plant by providing the tiniest of windbreaks, and the gray reflects sunlight, keeping the plant a bit cooler. There may also be a defensive aspect to the Globe Mallow's hairs. I rubbed a leaf between my fingers that day, and when the hairs that came off on my hand inevitably found their way into my eyes not too much later, they were plenty irritating.
**0:19:49** - (Chris): Some people are more sensitive, and just touching a Globe Mallow can cause them to suffer something approaching dermatitis. It's by no means as irritating a plant as its fellow mallow family member, Fremontodendron, whose hairs can drive even the most stoic native plant enthusiasts to distraction in the space of half an hour. But you probably still ought to avoid rolling around naked in a Globe Mallow patch without a very good reason.
**0:20:30** - (Chris): So one of the things I really love about Globe Mallow is that it is a desert protector. It could easily be the mascot for our podcast, because when something comes in and disturbs the desert, whether that's a flash flood or a bulldozer or just somebody scraping their yard, globe mellow is one of the things that will grow in that kind of condition. Along the highway between Joshua Tree and 29 Palms, there are stretches that where it's just entirely fringed by Globe mellow.
**0:21:02** - (Alicia): Right now and down the hill between from Morongo, when you get to the base of the morongo grade. That whole stretch coming from the Ten once, that first strip of the 62. There's pink mallow down there nice and I just love them. It took me forever to accept that those were actually because I'm learning my models here. I'll crack people. I don't know my models that well and I just didn't know what it was. And then I learned, oh, snap.
**0:21:30** - (Alicia): They come in pink too. And it's like you said, a disturbed area. It grows all along the shoulder thick.
**0:21:36** - (Chris): As thieves reclaims the damaged desert and knits it back together.
**0:22:02** - (Chris): Sard animals enjoy eating globe mallow leaves and stems. Jackrabbits and cotton tails eat the new growth, as do desert bighorn sheep. And evidence of globe mallow has been found in the coprolites of long extinct shasta ground sloths. Researchers studying the diet of Chuck Wallace, the second largest lizard in the California desert after the Gila monster, found that.
**0:22:41** - (Chris): The big vegetarian lizards seemed to have.
**0:22:42** - (Chris): A serious taste for globe mallows, sometimes eating twice as much cirelsia as they did of all other plants combined. That's assuming globe mellows are available for the local chuck wallas. Of course, sometimes they aren't. Spheralcia seems to be what's known in the ecological succession biz as a disturbed soil colonizer. It's quicker than many other desert plants to start growing in areas like landslides, roadsides flash, flood carved gullies and other such examples of freshly uncovered soil.
**0:23:16** - (Chris): Globe mallow shares that ecological trait with the ancestors of a whole lot of our most common food crops lettuces and carrots and tomatoes and the like. So maybe it's no coincidence that some animals think it tastes good.
**0:23:29** - (Chris): When a patch of desert soil is.
**0:23:31** - (Chris): Disturbed, globe mallow seeds may already be there, cast down by apparent plant years or even decades beforehand. Given a little water, the seeds will sprout. Given a little protection from herbivores, they'll live and grow for a few years, perhaps a few decades, holding down the desert soil and providing a bit of shelter for the longer live desert plants that sink their own roots into the formerly disturbed soil.
**0:23:55** - (Chris): Eventually, a acoya or a creosote will be there, growing up out of the husk of a long dead globe mellow.
**0:24:03** - (Alicia): Okey dokey. I say we beeline back to the car location we're going to to visit. Amalo is on the edge of another very disturbed area in Indian Cove. It's called Ratlesnake Canyon, and it is quite a wash that comes out of there.
**0:24:19** - (Chris): So this is natural disturbance rather than bulldozer disturbance.
**0:24:24** - (Alicia): Right. Oh, my lovely. It is always so wonderful to see you.
**0:24:31** - (Chris): You know what? I don't need my hat.
**0:24:38** - (Alicia): Hopefully the mosquitoes aren't going to try and eat me absolutely alive. I think I'm going to grab my long sleeve shirt. Just play it safety. Desert woman always keeps a long sleeved white shirt in the back seat in the summertime. I just love this little area. To me, it's like a pre garden before you get to the wash, depending on the time of year that you're in here, there's different clusters of all these exciting bushes. It doesn't look like much now, but bladder pods, the cat claws, the Crimearia, the creosote, the yuccas, whichever way you're supposed to say it.
**0:25:38** - (Alicia): When I was a kid in my head and I'd read the back of my bubble bath bottle, it was jojo boa. This might be a little tricky in my here we go. All right. My mallow should just be right around the corner here, but we're in rattlesnake territory.
**0:26:00** - (Chris): Well, they'll take one look at your nails.
**0:26:03** - (Alicia): Don't think I want to do that with what are you saying about my nails, Krill?
**0:26:08** - (Chris): They'll say, oh, well, she's just too fancy to bite.
**0:26:12** - (Alicia): Okay, where are you? Oh, you're right here. Looking pretty scrappy. I thought you'd be in really amazing shape.
**0:26:19** - (Chris): Well, it's got leaves on it still. That's good.
**0:26:22** - (Alicia): Yeah, it looks like all the leaves have been pretty much browsed off. But this specimen is growing in between a very large boulder and some smaller rocks. So the base of the plant is very well protected, and it would get.
**0:26:40** - (Chris): Any rain or even dew condensation that forms on the rock above it. Here's a beautiful bat just checking us out. So good place to be if you're a plant.
**0:26:54** - (Alicia): Yeah. And they're tucked into the rocks like that all around here on the edges of the wash and in the little mini canyons. They're not the dominator out here. I think catclaw is a dominator out here. I'm not sure what this is. The tent caterpillars are always on this bush. You want me the spot that I'm in so you can take a closer look. That is everywhere.
**0:27:31** - (Chris): Turn on flashlight. I don't know it that's comforting.
**0:27:52** - (Alicia): Yeah. You can see this one growing here to my right behind this boulder. It's taller than this boulder. That's taller than me. It's quite a large it gets big and it hedges. Wow. Okay. There's a whole group of them.
**0:28:10** - (Chris): I always think of Globe Mallow as a desert roadside plant. And here we are in this place where I mean, that plant with the two medicine ball sized boulders below it and the gigantic boulder above it. That's not disturbed. That's not a disturbed area.
**0:28:28** - (Alicia): Correct.
**0:28:29** - (Chris): And so it's still growing there, and it's just really remarkable how adaptable it is.
**0:28:38** - (Alicia): And I love that they call them apricot mellow because apricots are my favorite stone fruit, and I love the color. The skirt I wore to your wedding was in the theme of an apricot mellow, because know express instructions from you and Lara was desert themed, animal themed, like, bring your desertness in your outfit. And that skirt, to me, is the shape of a mallow flower because it's a bit of a bell skirt and it's the right color.
**0:29:13** - (Chris): See, I was totally focused on the coyote part.
**0:29:16** - (Alicia): Right? Yeah. I had the coyote hood, the wolf hood on, and I had cat tights. Anything that was like, remotely animal or desert related, I busted all out. It's like I'm going full fox.
**0:29:29** - (Chris): Patrick still wins that, though.
**0:29:31** - (Alicia): Yeah. Anyone who shows up in a full tortoise costume wins, hands down. The desert animal themed.
**0:29:40** - (Chris): Okay.
**0:29:42** - (Alicia): Back at the car, safe and sound. That's the way we like it in this desert town.
**0:29:53** - (Chris): I drove for hours that day long ago, my unreliable and painfully slow truck earning me the wrath of every person behind me from Boron at six in the morning, it took me more than an hour on old Route 58 to get to breakfast in downtown Barstow. Then came an eternity on Interstate 40. My pickup, with its six volt electrical system and its 40 HP engine and all the sleek, stylish aerodynamics of a sheet of plywood, made maybe 49 miles an hour in neutral on long downhill stretches of road.
**0:30:28** - (Chris): Mainly I went slower. It took me well over 18 hours to get from Boron to Picacho Peak, just north of Tucson. That was plenty of time to examine the contents of my 29 year old soul as speckled with fear and doubt as the desert was with Globe Mallow orange, without mobile phone or GPS, without really knowing where I was. Headed other than Oregon Pipe via Tucson. Without credit cards or much in the way of cash.
**0:31:02** - (Chris): I was as on my own as I've ever been. The wreckage of the relationship that had consumed my 20s was only a little ways back in the rear view mirror, and the parting knowledge that I didn't measure up to the guy I'd been dumped for had sunk all the way in. Couldn't yet tell where my current relationship would lead, except we had vague plans to meet in San Diego in two weeks. I couldn't even count on the truck coming down the mageON Rim north of Wickenburg, Arizona, seeing the whole valley of the sun splayed out before me in sunset pink.
**0:31:37** - (Chris): The old truck's clutch started feeling a little bit off. At the general store on the Casablanca Pima reservation, I bought a new crescent wrench, crawled under the truck in the gravel parking lot to try to adjust the clutch cable. It didn't help, and by the time I woke the next morning similarly sleeping in the truck bed in the Picacho Peak State Park parking lot, the clutch was out altogether. I'd run into the desert until I couldn't run any farther.
**0:32:16** - (Chris): I was 800 miles from home and broke grinding my transmission with no clutch down the shoulder of Interstate Ten, past the billows of Globe Mallow on the Verge, binding the wounded desert as best they could.
**0:32:34** - (Alicia): We'd like to send a few shout outs to some new supporters. Through GiveButter we have Rafael Moncarsh thank you.
**0:32:46** - (Chris): And Aiden has one of those names that there are three really common pronunciations, but I'm just going to pick one. Aiden Koch. Thank you for your donation. Glad you like what we're doing. If you want to join the ranks of the people that have been helping us put this podcast out, you can go to Nine 0 Mile From Needles.com, donate a couple of different ways for you to give to us there, all of which are very much appreciated.
**0:33:15** - (Alicia): 90 miles from Needles is a production of the Desert Advocacy Media Network. How am I supposed to focus with heart being so cute on the living room floor?