There are flowers to be seen in the desert, if you know where to look. Chris and Alicia de-stress while enjoying the best of the desert, and discuss how best to celebrate such effusive blooms without destroying them.
Here are some photos of the flower display Chris and Alicia visited: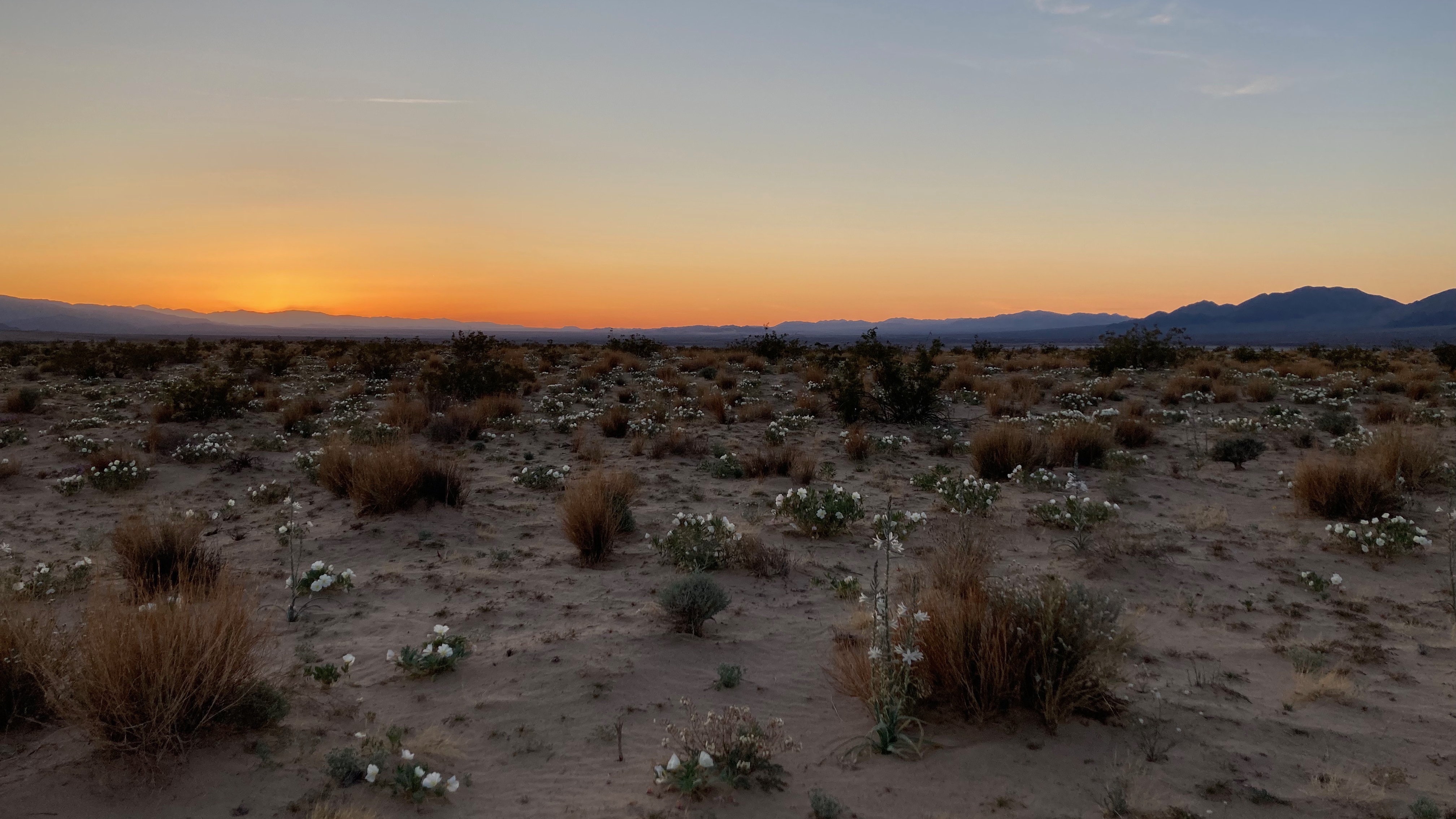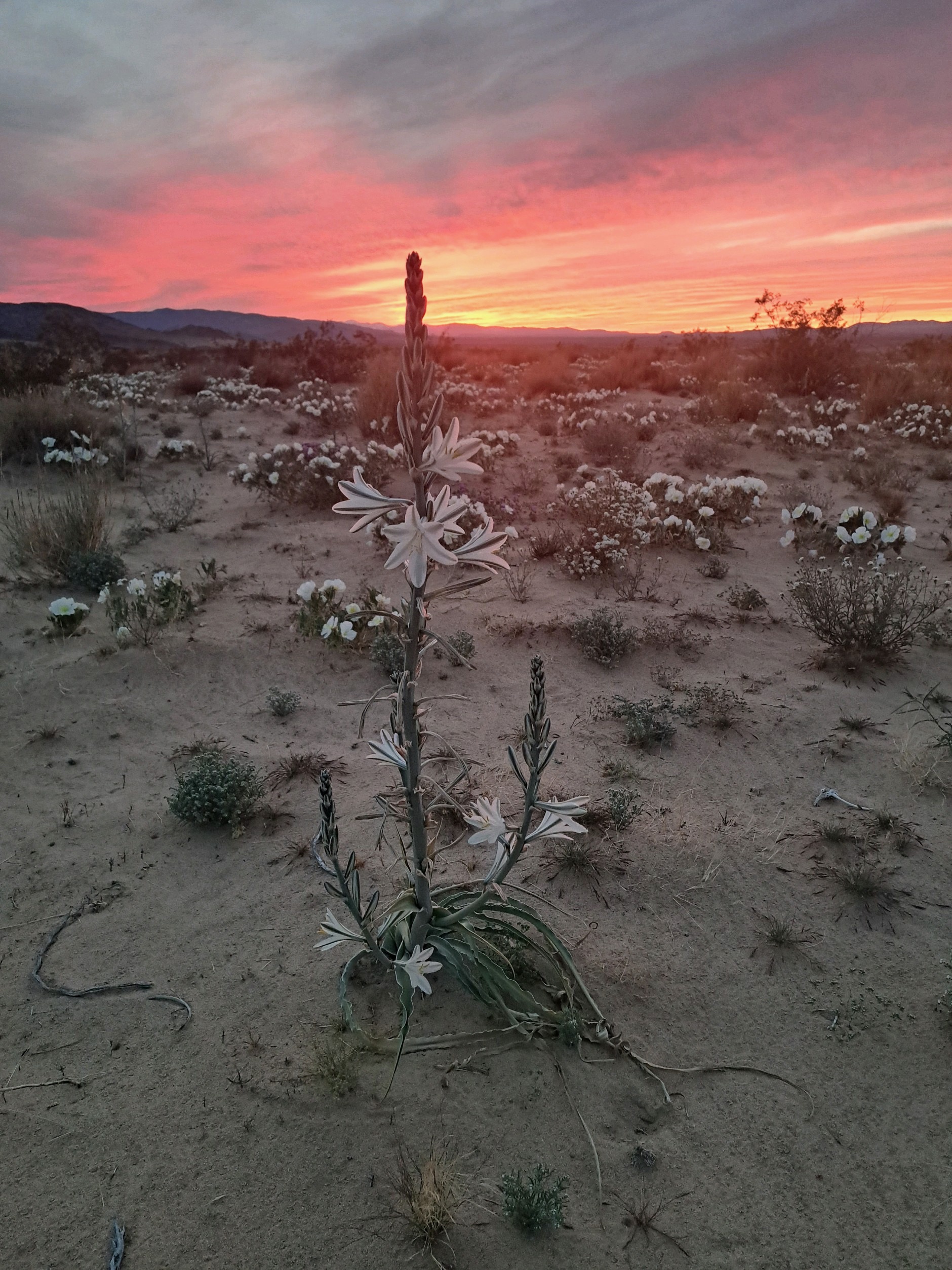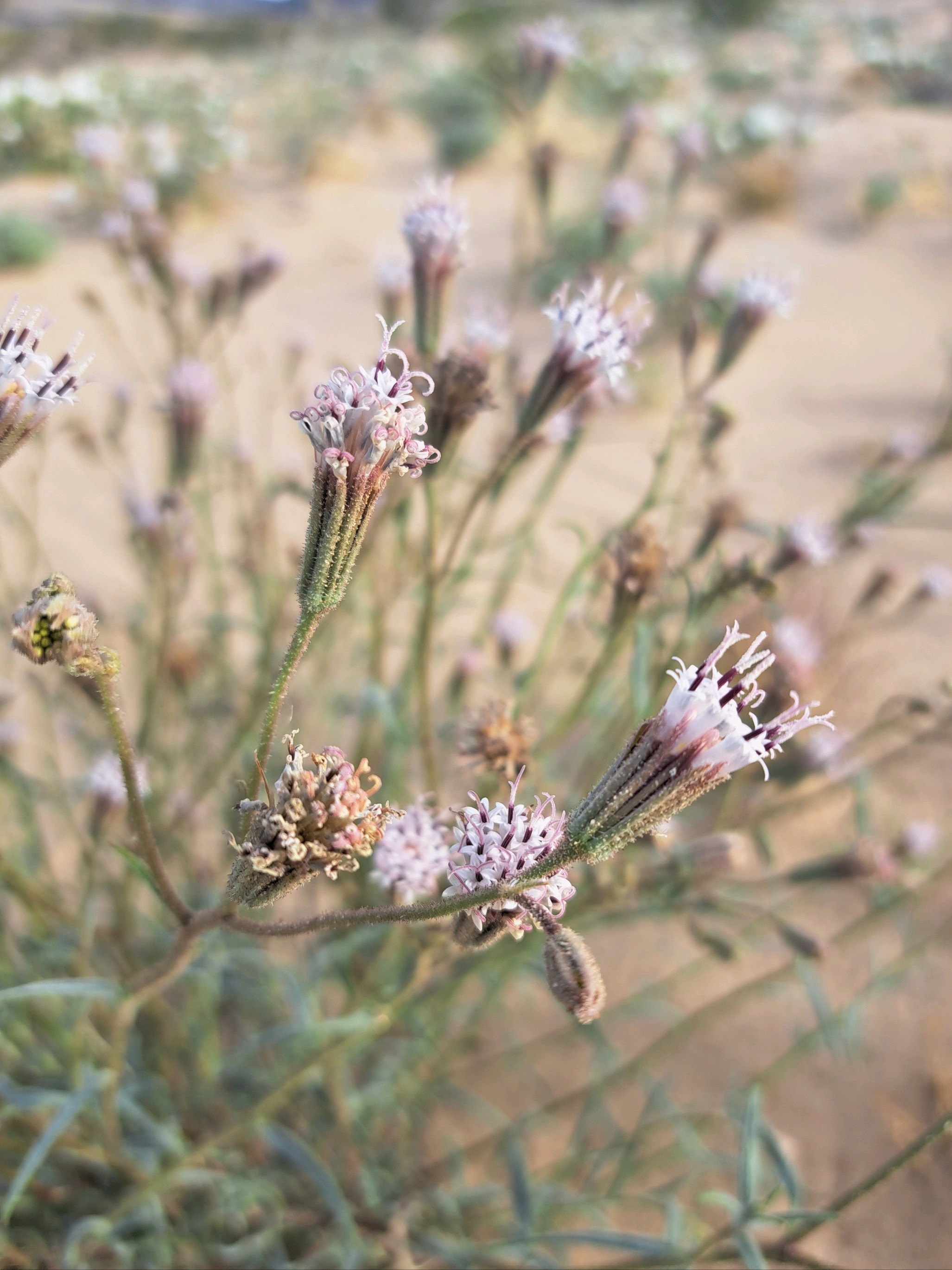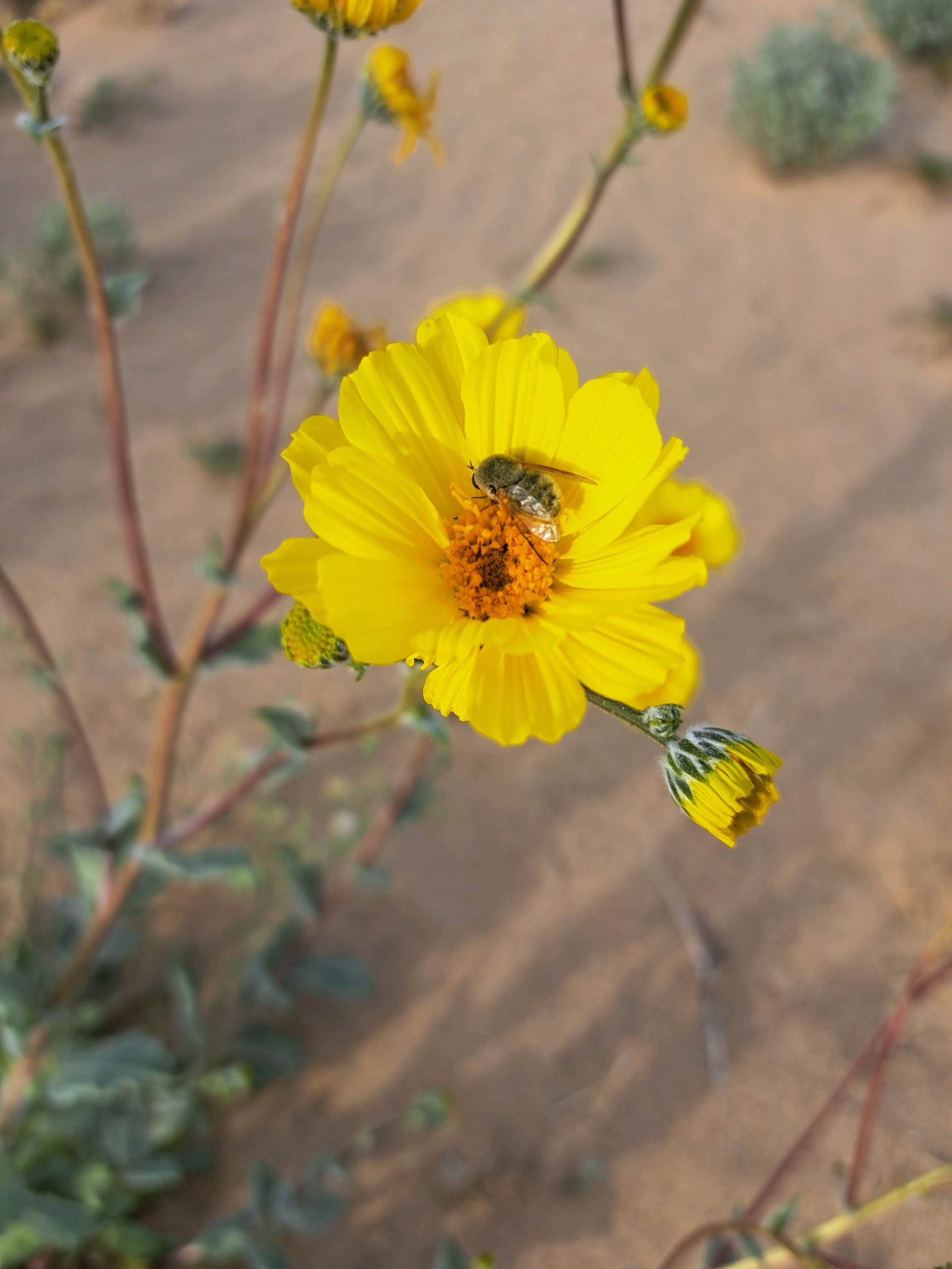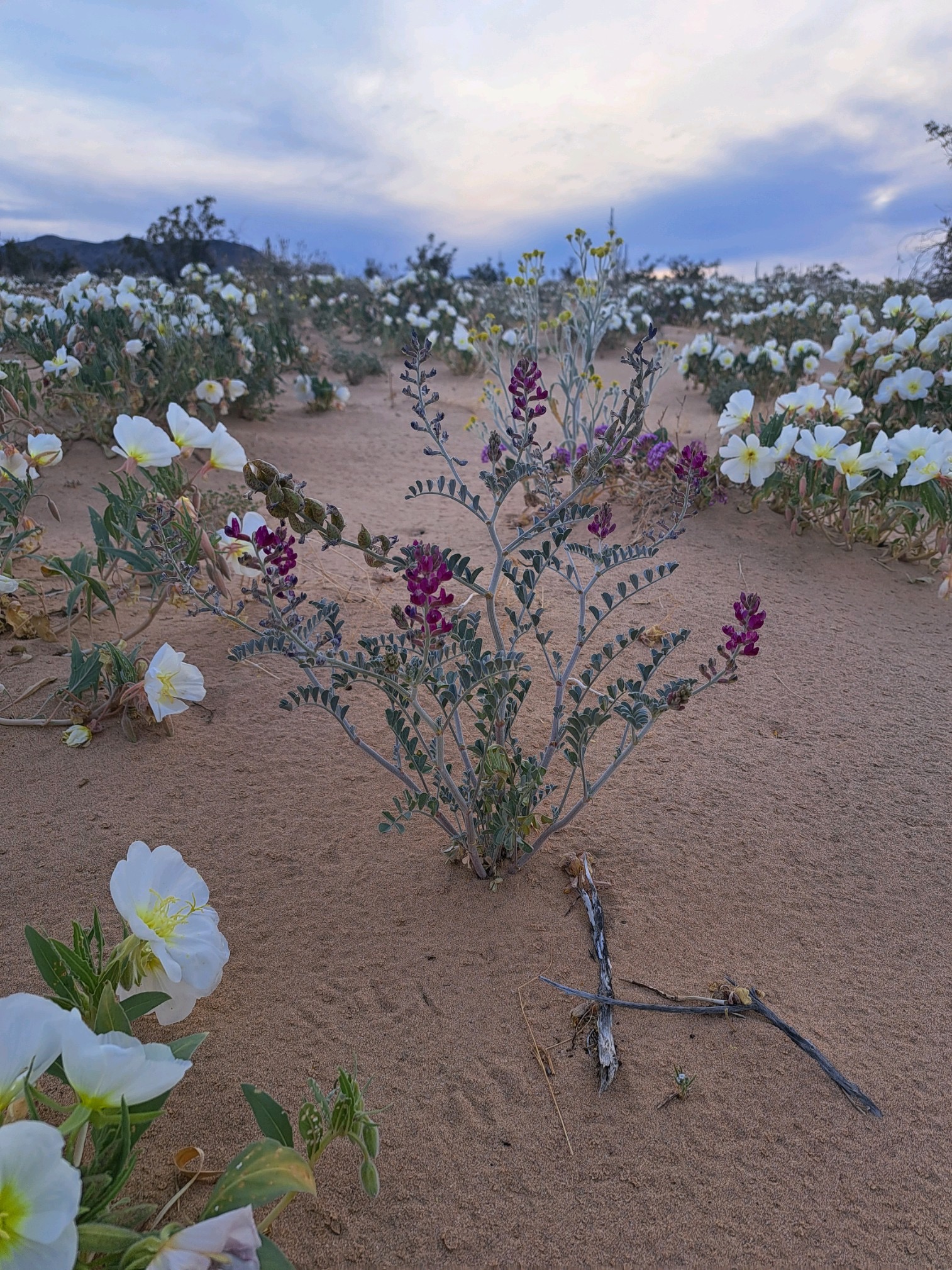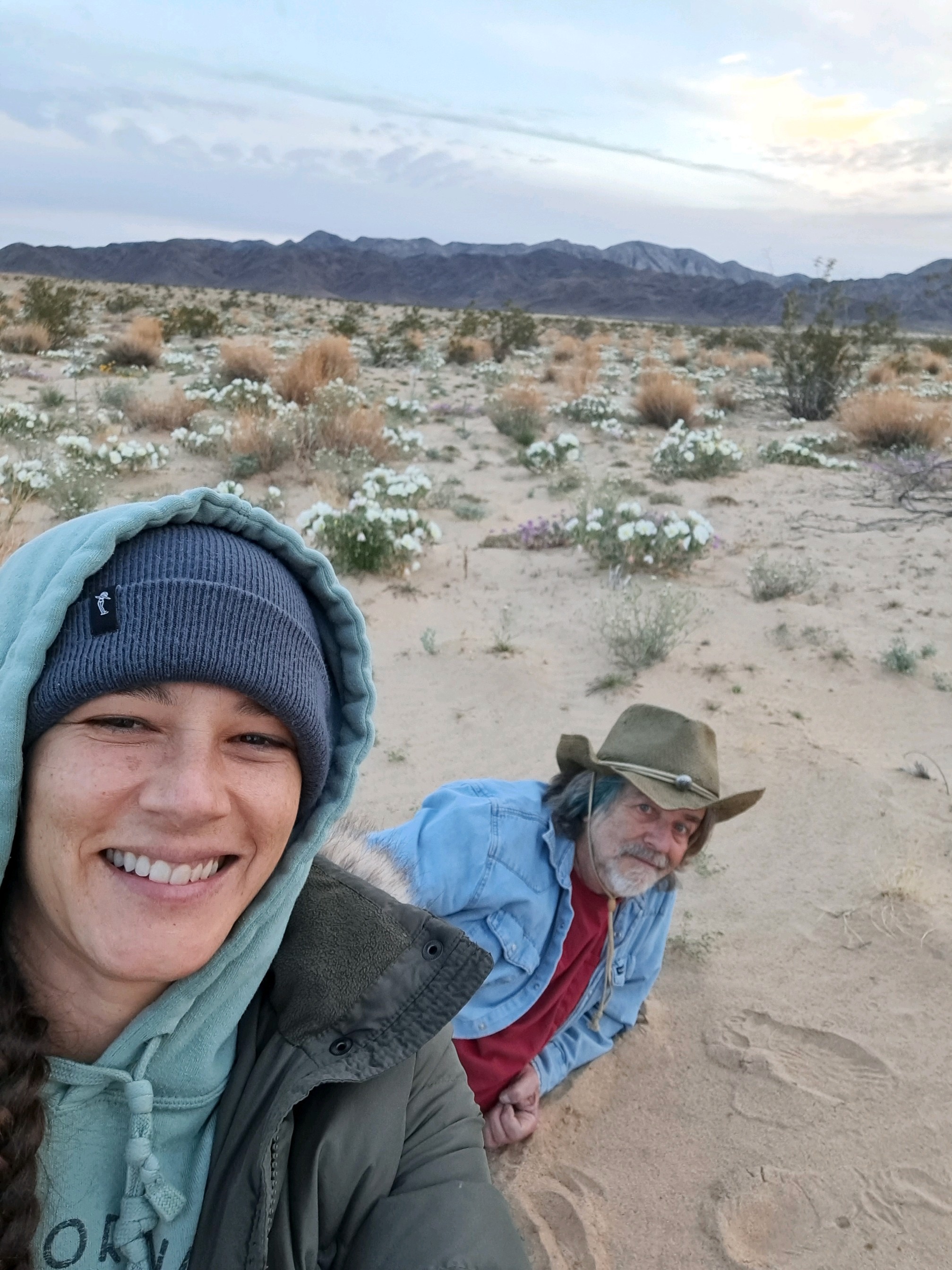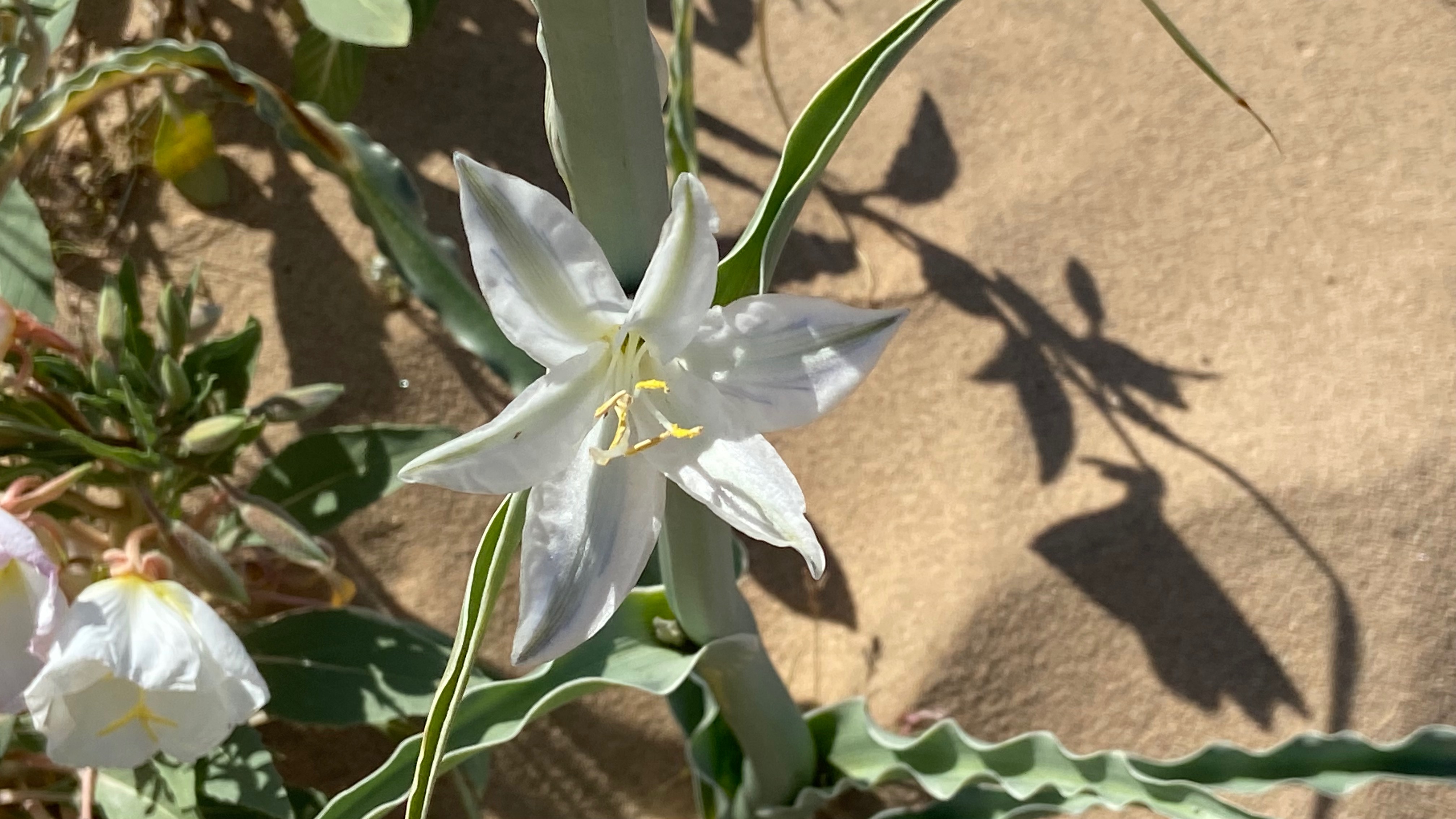 Support us!: https://90milesfromneedles.com/donate
See omnystudio.com/listener for privacy information.
Uncorrected Transcript
[0:00] I am delighted by the fact that you have pollen all over your face. i do. it's fantastic. oh a five, spot. not open. looks like tomorrow. come back tomorrow. you see those two? yep. what a catch.
Okay i think i might grudgingly accept that this could be referred to as a super bloom now that there's a five spot. Is that what it takes? A rare flower? It specifically takes a five spot, and then a whole bunch of other flowers.
[0:33] Music.
[1:03] Hey, this is Chris. Thanks for joining us at 90 Miles from Needles, the desert protection podcast.
And I wanted to offer a content warning for this episode because the content in this episode may be found disturbing by some of our listeners. This episode contains no hard news whatsoever.
It contains no bad news. This episode basically consists of my co-host and myself taking advantage of the fact that 31 atmospheric rivers hit California between October 2022 and the present, day, and some of that water actually leaked over the mountains into the desert in California and Arizona and Nevada.
And when you get more rain than usual in the wet season in the desert, what often follows is a startlingly beautiful bloom of desert wildflowers.
[1:52] Now, we didn't have uniform bloom across our section of the desert this year, but there.
[1:58] Were patches that were really nice with abundant flowers of a bunch of different species.
And while locals are a little bit gatekeepy about the locations of places that are blooming nicely, there is a sort of an insider's network among conservationists and land managers and people like that.
And I happened to see an email forwarded around that said approximately X number of miles past a nearby town, there is a significant bloom of many different species of flowers.
[2:30] And so Alicia and I took a day to head out there and catch up a little bit and just enjoy the springtime bounty of desert wildflowers.
So this episode contains a lot of rapturous talk about the beauty of the desert and a little bit of philosophizing about how we interact with the desert, how we interact with wildflowers in the desert, how do we best approach the idea of advocating that people get to know the desert. Hope you enjoy.
I'm still waiting to see the ghost flower. It's nice that the five spot feels familiar.
I've seen it quite a few times over two different blooms and I was so thrilled.
Buttercups. Is that Phacelia behind it? Oh look at what is fucking growing behind it! Oh yeah, very nice.
[3:29] No open blooms but this should show you a minute of flora right there and brown-eyed primrose they're easy to find but i like them a lot so we are in a dune field with dune primroses and sand verbena and popcorn flower and pincushion flower and desert forget-me-nots loco weed aka astragalus aka milkfetch and some sand verbena, pygmy poppies probably desert california poppies as well buttercups buttercups and, standing over them like sentinels are espero calisandulata the desert lily it's like the partridge of desert flowers it's really hard to grow it grows where it wants to and when it wants to and it'll stay dormant for years and years until it gets conditions that are just right which mostly involve lots of rain and cold at the right times in the year.
[4:30] Okay this I think looks like a pretty good spot to set up. I'm not sure I can stop looking at the flowers which means I'll have a hard time talking and formulating thoughts.
There's an article that came out recently by someone fairly well respected in the Southern California native plant community talking about how he thinks there's enough wildflower shaming and it raised a lot of a ruckus in both directions with people agreeing with him and people saying what? It was interesting because he was saying that scolding people on social media for taking pictures in vast fields of flowers was the wrong way to go about educating people. Well I'd agree.
Yeah. He said, what we really need is many more people to protect the resource, like BLM and National Park Service rangers. And I was like, yeah, which one can we do first?
I don't know. You know that I'm an advocate of learning and sharing that knowledge. So if you can educate others with the knowledge that you already possess or as you learn it, that is the fastest way to do it is to learn and to start sharing and.
[5:39] And to talk to people like they're your friends, not like someone who's pissing you off, because if you talk to someone like they're pissing you off, they can hear that and they're not gonna respond well.
I feel like that's part of oral history of humankind that's slipping away.
It shouldn't be on the park service to educate us.
It's something that we as human beings should have learned already, but if you don't know, then it's time, any time is a good time to learn how to be respectful and steward nature for future generations.
[6:11] Yeah, one of the things with this article that I found troubling was that he seemed to not differentiate between people like the late and not particularly lamented closed down Instagram account JoshuaTreeHatesYou, which just basically almost seemed like they were using desert behavior shaming as a way to work out some personal demons.
They were just very unpleasant to interact with, even if you agreed with them.
[6:40] Seemed very angry. Yeah and then on the other side of that there are people that are responding to pictures and social media by saying hey I hope you actually took that picture from an established trail and just photographed to obscure, that fact or whatever approach you want to use. Yeah even that's not nice enough honestly the approach needs to be so pure no thou art below me let me tell you. There can be none of that. And it is such a challenge to do. And it is important that we practice communicating when it's difficult. Yeah. And not just shunning it and hoping it'll go away. Because something like this isn't gonna go away. Oral history, that education that we pass on to each other, that's how we got here. Technology isn't doing it for us. It's a real challenge and it's becoming what feels like a lost art.
Mm-hmm. I think also that there's a difference between when you are responding to someone specifically, or if you're just saying, hey, when you go to the desert, please remember.
[7:51] And not responding to anyone in particular, because then people can read it and go, oh, okay, I'm not being called out, and yet here's something that I might not have been doing precisely in the best way.
I think it's easier to accept the correction if it's not aimed.
[8:09] Quick break here, just to let you know that 90 Miles from Needles, the desert protection podcast is in the process of incorporating as a non-profit. Why are we doing that?
Well, we want to expand what we do. We'd like to hire freelance reporters.
We'd like to do some remote stories involving a travel budget, to have some live shows throughout the desert and in nearby cities.
We'd love to expand our coverage down into the Mexican section of the Sonoran and Chihuahuan deserts, and we'd love to become a bilingual podcast for that matter. All of that takes money. The most straightforward way of raising the resources to do all those things is to get a tax-exempt nonprofit status and work on getting grants. This is probably gonna take about 1,500 bucks. In other words, about twice our monthly budget. If you'd like to help us out there, head on over to 90milesfromneedles.com slash donate and give us what you can. Please Please stay tuned for more, and as always, thank you for everything you do to protect the desert.
Right now the sunset is in progress.
[9:25] There's a very strange but beautiful sort of gray-orange with a hint of tomato soup color band on the horizon and overcast above it. It's quite lovely. There is a little bit of blue sky peeking out. I just really love the way the mountains change color as the sun gets lower, especially when it's all filtered through clouds. It's just amazing.
Alicia's busy taking photos of flowers. There's a little buttercup over there that I really want to go stick my face in. You want to go over there with me or are you comfortable? I am comfortable but I also want to go over there with you. Okay time to go bury a face in a buttercup.
You're talking about your own face right? Those clouds are starting to light up that's what I was hoping for with all this cloud cover. All right well this was a winning visit here to nature as always. Yep.
[10:24] I am content. Kind of wish we had a pile of blankets, a couple of cots, and some coffee. I was just thinking a little bivvy tent and uh some coffee. I'd love to just... the sand is so soft you wouldn't need a mattress pad or anything. Just just a few blankets.
What a view in the morning though, that would be... Wake up to that smell.
[11:09] Shall we stumble back to the car while we can see? Yeah that's probably a good idea. I was just contemplating how long I was gonna milk standing here. But yeah, we can enjoy seeing the sphinx moths flying about and feeding on our walk back if we leave now. Otherwise it'll get, I think, a bit too dark to see that. Okay well thanks for coming out here with me.
Oh, thanks for asking me to come on out today.
[11:37] Music.
[12:04] 🎶 And so we got in the car, headed back into town, and the evening and the morning were the next day.
And then the next evening, yet another atmospheric river came through California, battering the coast.
And in the desert, that battering mostly consisted of high winds.
All the rain stayed pretty much on the ocean side of the mountains.
Those high winds reached, at least in my neighborhood, around 35 miles an hour, sustained.
And so naturally the next morning after the wind died down, I wondered whether or not the field of flowers we'd seen had been battered to the point of non-recognizability by the wind.
And there was only one way to find out, so I grabbed my podcast co-host, she grabbed some provisions, and we headed back out.
[12:50] Music.
[12:56] I brought a picnic blanket and the picnic bag. I'm gonna need some help carrying all that stuff out there. Absolutely.
Damn, the static electricity though. Right now I'm getting shocked every time I touch metal. Jeez.
Work today was a nightmare.
And I think we are gonna have to stand with our backs to the wind when we're talking about important stuff.
I like the idea of finding, like let's follow the wash and find a cranny.
What do you think about that?
That seems very good. And we can get up on the hill and the dunes, but.
I like that idea very much. Yeah, and was that ghost flower nearby?
Yeah, we went further up.
Okay, well, I figure they like to turn up in the sandy washes, right?
So if we're going up wash, we have a high... hold on, I still got one bag in there.
Okay. We cannot forget our picnic blanket.
Everything looks like it's still doing pretty darn good. Yeah, I don't see a lot of blown down anything despite the 40 mile an hour winds.
I just saw a primrose that clearly got cleaned up by a caterpillar, so there's been some chowing going on out here. Some ecological function.
[14:22] The ants didn't get blown away. I love how they don't wash away either.
They make those little ant islands.
Yep. So do you think if we push up against the bank and then follow that up, I think that would be lovely?
What do you think? I do think it would be lovely.
[14:42] It's really hard trying to focus on one flower. I just want to get all, wow, the amount of wilt!
This stuff was so fresh and lively. Wow, the demolition! This has just gotten a lot of action from the caterpillars. Yeah, people are chowing down. It's striking because when we were out here last it was all about the moths flying from flower to flower and now it's caterpillars eating the flowers. I would like to see if we can spend a minute looking for the five spot. Yeah, I want to say it was like over here. I feel like it was down in the wash. I have a pretty good memory for those things. I can pull out the photo. I just don't remember it in the dunes at all. I remember it down there. Do you want to walk around up here and I'll just go trot down there? Yeah, I got just a couple more places to look and then I'll come catch up with you. Okay. Right, well, we are going to go upwash, so that makes sense. So yeah, I'll trot around down there. Meet me down there. All right, and don't forget to narrate. Oh right, thanks for the reminder.
[15:55] I just love walking in the sand dunes. Oh, except when you're posthole yourself.
[16:04] You can see all the little animal tracks. I just, there's so much activity. The dunes are so alive.
Even though the constant shifting sand makes it look untouched a lot of times.
Yeah I'm starting to think Alicia might be right. Oh there's a fantastic astragalus. Now where is this garden? I was so sure.
When we came across the wash, right, it was we hit that steeper area first.
So let's go back over here.
[16:53] Oh my goodness, it is really life-affirming to have gone through that intense windstorm and to just see everything here basically intact. I mean the primroses are kind of disposable.
All right, I am giving up. Okay, there's the pincushion in the bush.
That came after the little island of flowers where it is.
Walking back. Walk back with a picnic lunch.
I love patterns in sand. I love the patterns of the wind, scoops, ridges, the ripples.
Desert lilies seem to have come through the intense windstorm pretty much unscathed.
Wind speeds got up to 33 miles an hour at the very least where I am last night.
These lilies are robust in that Taoist sense of the tree that is supple and bends with the wind surviving the longest.
All right, I need me a buttercup break.
Break me off a piece of that. Oh, don't don't break yourself off a piece of that buttercup flower.
[18:20] Smells so good. Okay, back to work. Gotta find the five spot.
Wow, that's a really cool stick. I didn't find it.
Me either.
I did find that there was a tree that had pincushion growing in it that I know I photographed close to when we found the five spot, spot but nothing else seemed familiar. All right I'm gonna walk over along the, bank I think. A less rocky, B more flower catchings. Yep I've been really appreciating the patterns of sand and rock and wash and water and wind. Yes the, mechanical processes of earth. Wow, that field of flowers. And those velvety dunes.
What is this guy? That is a cheesebush I believe. That's what I was gonna say but I didn't know for sure. Except I don't think it is. Because doesn't it smell cheesy?
It doesn't smell like anything much to me. Nope. Kind of a bit of a spring green. A little bit green, yeah.
[19:43] Or as Hart would call them, rabbit dispensers. Mm-hmm. Oh, Hart dog.
[19:51] You want to weave up this middle course and see if there are any other rare flowers just waiting to be spotted?
That sounds like a great idea.
I was so worried that the wind that came through last night would have completely bulldozed the flowers here. Where we are, it was the fastest wind gusts that we've recorded since we lived there.
What did you see? We got up as high as 35 at the very least, maybe higher than that.
But even the primroses look like they're more damaged by caterpillars than by the wind.
Mm-hmm. I mean, there's a lot of wilt on that hillside, too.
You can tell where the wind travels more frequently because some of those primrose, the dune primrose, are real fluffy and fresh. But on the face of that hill coming in, they look like they had just been, ripped of all their moisture. Yeah, that's true. That is very true.
This is cool how you get into this really seemingly harsh environment that we're always telling people is way more fragile than it looks.
And then we get these soft and gentle and paper-thin little succulent stems of wildflowers.
[21:08] And beautiful petals that are like butterfly wings and they can go through a major windstorm.
Yeah, it seems they're adapted to natural cycles, but it's the unnatural will of man being imposed on them that they are fragile to, wouldn't you say?
Yep.
The hand or foot of man.
[21:32] Or machination. Then again, the desert lilies back in our neighborhood in 2020, there were a few of I saw that got run over by quads or other OHVs and afterward they came up, and they bloomed and they set seed and they just had crooked stems. Yeah. I mean not that I advocate, off-roading through a field of desert lilies by any stretch but they were pretty resilient. We're losing that bank and it's starting to get windy again. I think we should head for that highest point and set up our picnic. That sounds good. I could keep walking but that's not a good plan.
Too late in the day to wonder what's around the next bend. Just one more bend. Just one more bend.
Just one, just one more. Let's just go down one more dry fall. One more. Crypto, let's go around.
Yep, halt. Crypto. Rerouting. Please, return to the root.
Give me 20 more minutes. I'll find that five spot though.
[22:47] What do you think about right here? Yeah, this is great.
[22:52] It's like a sandbar kalonji, will you pick that bag up I'm just gonna throw down a blanket first, There are ants and they are not welcome in my picnic, Alicia is ready for anything I'm gonna set us up a, A ferret or both? Oh good lord. Yeah I did. Yeah I did.
Alicia has just pulled out a ceramic sashimi serving plate with stylized ginkgos engraved in the glaze. High style here. It's a mini picnic. So we got the The Thai lime and chili almonds.
Dried pitted tart Montmorency cherries.
These were from mom. She brought these from San Diego. Dark chocolate covered orange sticks.
You haven't had these.
Divine.
And then buffalo ranch gouda that has really good fresh dill.
And the Cornichon pickles. Traveling in style.
Chris doesn't realize that his co-host is actually a hipster.
Yeah, right. I never realized that. Yeah, right. I never realized that.
I think Alicia is the only one who doesn't realize that she's a hipster.
[24:20] Those birds are lovely. Doo doo dee, doo doo doo, doo doo dee, doo doo doo.
Back to what you're saying, we talk about how fragile the desert is even though it's like a tough looking place. And I feel like these flower blooms like this are, they just remind me of, I don't know, the philosophical nature of everything has a soft side and a hard side and boom and bust and these greater dichotomies that exist in everything. And to see the desert so gentle and soft and sweet, the smell is just so sweet. And it being a rare occurrence, it just feels so special to, get a glimpse of that side, that facet of the desert.
[25:44] And some people get the flashlight moment on themselves when they are in a flower field and all of a sudden they start to feel that softness that they're seeing.
That's the power of nature right there.
[25:58] I like the way wildflowers make me feel. Yeah, I feel kind of like we might be missing something when we, and by we, I mean I, when I sneer at, even inwardly, at people that seem to me to only be interested in the desert when it's in bloom.
Because I fell in love with the desert without the bloom, but it got hammered all the way home in my soul in 1997, 98, and there was a really good bloom.
Lots of yellow primroses all over the place.
Many other things, lupins, all the usual suspects, you know, it was just one of those gaudy displays and I thought this is just something amazing and you know, I'd been working with plants for 10 years at that point but this was, something that was emerging from the earth without any obvious human intervention. I was the kind of person at that time that wasn't just satisfied with, oh, yellow. I wanted to learn the names of the individual plants and the.
[26:57] Yes-no botany and it's a keyhole into the desert that is the way that some people get interested in the desert just like reptiles are for some other folks or climbing is for some other folks and I just keep thinking there's got to be a way to harness some of the energy that's coming into the desert because of blooms and help tweak people's perceptions so that they see it not only as a spectacle but as something that really deserves to exist on its own and that it's special precisely because it doesn't happen every year like clockwork.
[27:31] I feel like the life cycle of a seed is a really interesting story, especially with desert seeds.
The journey that they take, that could be a beautifully illustrated children's book, talking about the life cycle of a seed.
Out here where we're sitting, you know, I envision.
Tremendous wind and these tiny little seeds aloft flying through the air with grains of sand and then getting buried. Years are shifting sand back and forth and that seed maybe shimmies its way down into the rocks and settles down here in the wash. Maybe it's a Mojave ghost flower, maybe it's a five spot, but it finally settles up against a rock where it's going to get a little bit of water. It's not going to get demolished and washed away. Some more years go by and then the right temperature conditions one year are correct and the right water amount came down and the right humidity and the right seasonal change on time.
Boom. It starts all over again. This slow journey, this shimmy, this saunter that the seed takes through life.
[28:51] I strive to be more like a seed from a desert flower. It's just amazing the journey they take with no sentience.
It's just nature doing its thing. The seed itself not having sentience, that is, because there are sentient beings involved.
The Phainopepla is eating that toxic-ass mistletoe berry that nobody else wants to eat, pooping it out.
Little fertilizer packets on branches, so conveniently ready to just start rooting into the tree and growing some more mistletoe.
Shasta ground sloths flitting from Joshua Tree to Joshua Tree.
Oh wait, that doesn't happen anymore. I don't think they ever flit it either.
It was a fun image though.
I saw something between a giant ground sloth and a sphinx moth.
Flit, flit, flit.
[29:52] Even without big clouds of flowers in the field of view, this is pretty fucking spectacular.
Trees waving in the wind and various bursages and cheese bushes and things like that. Creosote's also waving back at the smoke trees. And so gentle. The breeze is so gentle after such a powerful windstorm the last couple of days. Sitting inside my house listening to the wind beating down on and everything that moves outside and...
You know, the trees are all like, oh, I can hear him.
Yeah, I see this gentle. Oh, it's like so easy breezy moonrise.
Oh, it's a big and that's beautiful.
[30:44] Many, many desert lilies, like exclamation marks.
Oh, God, he's so good. Oh, that's a nice fresh one, yeah. I just love how the fragrance of those desert lilies is just so clean and sweet and it's not heavy.
It's so light, it's not syrupy, it's like rose water mist. Good description.
Now this is really interesting to see the diversity of fresh blooms and the wilted blooms.
These bigger primroses are putting out another round of blooms that are quite a bit smaller.
I'd say half the size of the blooms that were prevalent on the last stroll.
Yeah, I wonder if that has to do with the wind making the plants lose water faster than they could suck it up from the sand because there is still almost certainly a fair amount water a foot or two down. Yeah. And maybe the plants will just recover within a couple more days after the windstorm. A horned lark over in there somewhere. Hmm? It's a horned lark singing.
Mmm.
The do, do, do, do, do, do, do.
[32:12] Oh the bee hotels are open for business. Everybody's checking into their rooms for the night.
This is just spectacular.
I just love the patterns that the plants make in the sand. Yeah before I spent a lot of time in the desert when I was just like vicariously reading about it books before there were pictures on the internet. I used to just absolutely marvel over photos of birdcage primroses that had traced a circle in the sand. It just struck me as the oddest and most beautiful and sublime thing.
The art of nature. Yep. I have been so stressed out the last week or so having deal with all the venal capitalist developer destroyer depletors, and it's absolutely restorative to come out here.
[33:21] It's nice when the flowers are so dense you gotta pay attention to where you're stepping.
Yep. I can almost not pay attention but I need to. Moths are so busy, fading.
I'm glad I came out instead of just sitting in my house by myself.
Me too. This bush here is like really cute. Look at this guy. What is going on here? Is this just a bursage out here doing real well in the middle of this flower field? No, it's something else.
Do you know what it is? I do not. It's soft.
Yeah, we wanted you to touch it. It's a lupine. Dang! Yeah. That's an aged lupine. Yep. I wonder how old that is.
Holy moly good decade at least got a serious trunk on it, Yeah, this looks like a good off-ramp here.
[34:35] Yeah, I feel like that mound there that we're walking toward 12 o'clock, we were on the south side of it, I believe. All right.
[34:50] So I feel like, I remember walking up on this dune face, though I ask you this did we find that five spot on the first walk in or the second I don't remember because on if you remember correctly we parked further down the road on that first stop yeah that's a really good point I feel like, the only way to find that fucking five spot is to run a grid pattern.
[35:25] A meandering transect.
We have established that there are no five spots on the property, and therefore we want to build our wellness resort. Yeah, no.
All right, well we tried. We gave that a really good effort.
I'm going to continue to look as we meander back towards the picnic.
Hey, because any five spot is better than no five spot.
Yep. Okay, so, spoiler alert, we didn't find the five spot. But that's okay. It was there. We saw it once. This year brought a whole lot more seeds of primroses, of locoweed, of desert lily, of any number of beautiful native wildflowers to restock the desert flower seed bank. And that's a good thing. The desert's bounty replenishes itself. Three or five or eleven years from now, those, seeds will sprout and renew the desert once again.
[36:27] That's it for this episode. We want to thank, in no particular order, those of you who've contributed to the podcast over the last few weeks.
Please check out our donation page at 90milesfromneedles.com slash donate.
You can also check out our merchandise page to see our new t-shirt design with its defiant coyote. Check us out at 90milesfromneedles.com or wherever you get your podcasts.
[37:16] Music.
[38:53] Seeing desert lilies in bloom every few years is a profoundly affecting experience for me.
Bulbs resting as deep as five feet down in sandy soil find something in their environment to trigger them to grow. It is certainly soil moisture, at least in part, but not every wet year sees a desert lily bloom. What else could it be? Temperature? Signals from mycorrhizal partners. I don't know. Whatever it is, every few years a desert lily bulb will send a leaf upward to emerge, strap-like, from the ground. Another leaf joins it. And another. After, a few days, the lilies have grown a frowzy, loose rosette of leaves that gather desert sunlight. Sunlight on leaves makes sugar. Sugar feeds more growth.
From the center of a leaf rosette, a vertical flower stem emerges.
This flower stem, a peduncle in the jargon, grows to a foot or two in height.
Waxy looking flower buds cover the upper surface of these stems.
When those flower buds swell and then open, starting at the bottom of the stem, one by, one, the flowers that emerge are mainly white or cream colored.
[40:11] About two inches across at the wide end, with pronounced green stripes on the midrib of each petal, butter-colored anthers emerge from the center of each flower, ready to shed pollen on whoever comes too close.
Hawk Moth. Hummingbird. Podcast co-host. host. Whoever.
[40:33] Desert lilies are more closely related to agaves and yuccas than they are to true lilies.
The desert lily's botanical name is Hesperoculus undulata, the only species within the genus Hesperoculus, part of a group of five genera of closely related plants that form a coherent group within the agave family. The others are the widespread camassia, the well-known camas of western meadows, Hastingsia, a somewhat obscure flower restricted to the Siskiyou-Klamath, region, Hooveria, which consists of two endangered species split out of the genus Chlorogallum in 2018, and Chlorogallum, the soap lilies. As of 2018, there are three species left in genus Chlorogallum, two of them quite rare and one nearly ubiquitous in the wetter parts of California and Southern Oregon.
This past month my friend Pam and I went out to the same patch of desert lilies featured in this episode and Pam, who is from the moist forests of Northern California, had an immediate reaction.
[41:43] They look like amole, she said. She was right.
Amole, or a wavy-leaved soaproot, or Chlorogallum pomeridianum, grows abundantly in those parts of the world.
Every time there's enough rain to dampen the surface of the soil.
After even a moderate early winter rain, the November coastal hills of California will sprout millions of green rosettes of Amel leaves, with most of those rosettes growing flower stalks a few weeks later.
[42:11] Desert lilies do look like amul. Amul looks like desert lilies.
I lived in the Bay Area for nearly three decades, hiking the hills with their almost solid cover of amuls, almost not noticing the flowers, despite their abundance.
Over the course of our 15 years hiking together, my dog Zeke and I must have walked past, several hundred million individual amuls.
In remote parts of the Sierra Nevada when he was agile, or on the sidewalks of the four-block neighborhood his world shrank to in his last months, Amel was a constant companion.
One night, a year before Zeke died, I sat on our front porch steps, watching moths visit the small patch of Amel I'd planted in the yard four years earlier.
It had come up right on schedule, a bouquet of small star-shaped flowers waving in the night breeze.
Zeke came out onto the porch, sat next to me, leaned into me companionably.
We watched soft wings drink from a bouquet of stars.
[43:18] When he died, I found there was nothing else holding me to the Bay Area.
I've lived in the desert since.
He has been gone longer than he was ever alive. The desert has changed me in the intervening years, much as it changed the ancestors of desert lilies from some more amole form. I wonder sometimes if Zeke would even recognize this changed, desert-dwelling version of me. It's a futile line of thought. Time flows in one direction only. Time is a desert wash. Sometimes bone dry. Sometimes a flood. But always and forever flowing downward to the valley floor.